Voith Aquatarder SWR Truck
Braking better without oil:
The new secondary water retarder
Safe, economical and sustainable - that's the first secondary retarder in the world that uses water for braking. Like the Aquatarder, the secondary water retarder also uses the engine's cooling water as its operating medium. With this, it carries out up to 90% of all vehicle braking operations.
Experience it for yourself: Mercedes Benz Actros, Antos and Arocs.
The facts speak for themselves
The secondary water retarder occupies 50% less installation space than its predecessor, and it is 35 kg lighter. Since it uses the engine's own coolant as its operating medium, it is also completely maintenance-free: no additional oil or coolant changes and no adjustments are necessary. And the environment is happy to have as much as 80% less brake dust.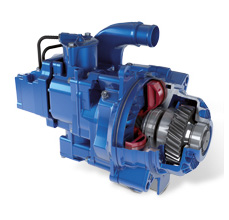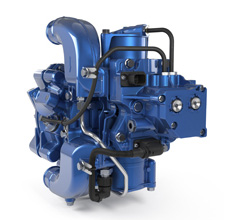 Contact
Voith GmbH & Co. KGaA
Commercial Vehicles
Hardtstraße 8
74564 Crailsheim
Deutschland, Germany

Service
Tel.: +49 7951 32-1555
Fax: +49 7951 32-1506
retarder@voith.com

Voith GmbH & Co. KGaA
Gottfried-Linke-Straße 205
38239 Salzgitter
Ms Sabrina Lipok
Tel.: +49 5341 21 5446
or
Mr Sascha Koch
Tel.: +49 5341 21 4872
Fax: +49 5341 21 1830
vta-training-cv@voith.com
Service
Secondary water retarder
Technical data
Step-up ratio
i =2.13 / i=1.97
max. braking torque at the propshaft
3 500 Nm
Standard operation
Multifunction lever 5-stage
+ function v-const
option: foot control
Operation medium
Engine coolant in compliance with Mercedes-Benz operating instructions
Control medium
compressed air
Unit weight
approx. 42 kg
Nominal voltage
24 V
CAN-Bus-specific RCM (Retarder Control Module)
Features and benefits
Higher safety
Maintenance-free
Fewer visits to workshops
Less fuel consumption
Less emissions
Voith Secondary Water Retarder Wins ECW Innovation Label Award 2013
Aquatarder SWR
wins European
Transport Award for Sustainability