The Voith TurboCool coupling optimizes the operation of gas compressor stations with engine driven cooling fans. This coupling reliably regulates the speed of the fans to maintain optimum cooling performance. The cooling system does not freeze up and does not overheat. This increases availability to the compressor station. The cooling system requires less power. Increase of gas production is possible with saved power. Lower cooling capacity means lower CO2 emissions and lower fan noise. Environmental pollution is reduced.
Contact
Voith GmbH & Co. KGaA
Hydrodynamic Couplings
Voithstr. 1
74564 Crailsheim, Germany
Sales, Technical Consulting, Quotations
Tel. +49 7951 32-409
Fax +49 7951 32-213
hydrodynamic.couplings@voith.com
Service, Spare parts, Repair
Tel. +49 7951 32-1020
Fax +49 7951 32-554
Vtcr-ait.service@voith.com
24/7 Technical Emergency Helpline
+49 7951 32-1616
Benefits and uses
Prevents the compressor cooler from freezing or overheating
Bi-annual adjustment of the fan blades not required
Higher gas production possible
Overload protection of the drive from sudden stops
Reduces load on engine, thereby reducing CO emissions
Reduces noise emissions due to lower overall fan speed
Typical fields of use
Wellhead stations with combustion engine
Booster stations with combustion engine
Gathering stations with combustion engine
Specifications
| | | | | |
| --- | --- | --- | --- | --- |
| Unit | a | b | c | d |
| mm | 834 | 780 | 680 | 646,5 |
| inch | 32.83 | 30.70 | 26.77 | 25.45 |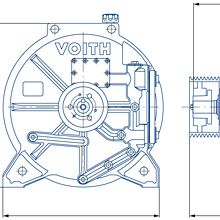 Voith doesn't just supply couplings, we are also your engineering partner for customer-specific drive solutions:
Designing of complete drive packages
Customizing the coupling for the optimal use of your system.
Analysis and optimization of the operating performance of drives in existing systems (retrofit)
Individual consultation and preparation of an optimized control logic
With our service provision, we support you anywhere in the world throughout the entire service life of your system.
How you benefit: you increase the efficiency, safety and availability of your system.

Services:
Original spare parts
Overhaul
Repairs
Commissioning and follow-up-service
Modernization, retrofits
Training
Service agreements
We are at your side at all times: 24 hours a day, 7 days a week. Thanks to our worldwide service network, we are always close by.