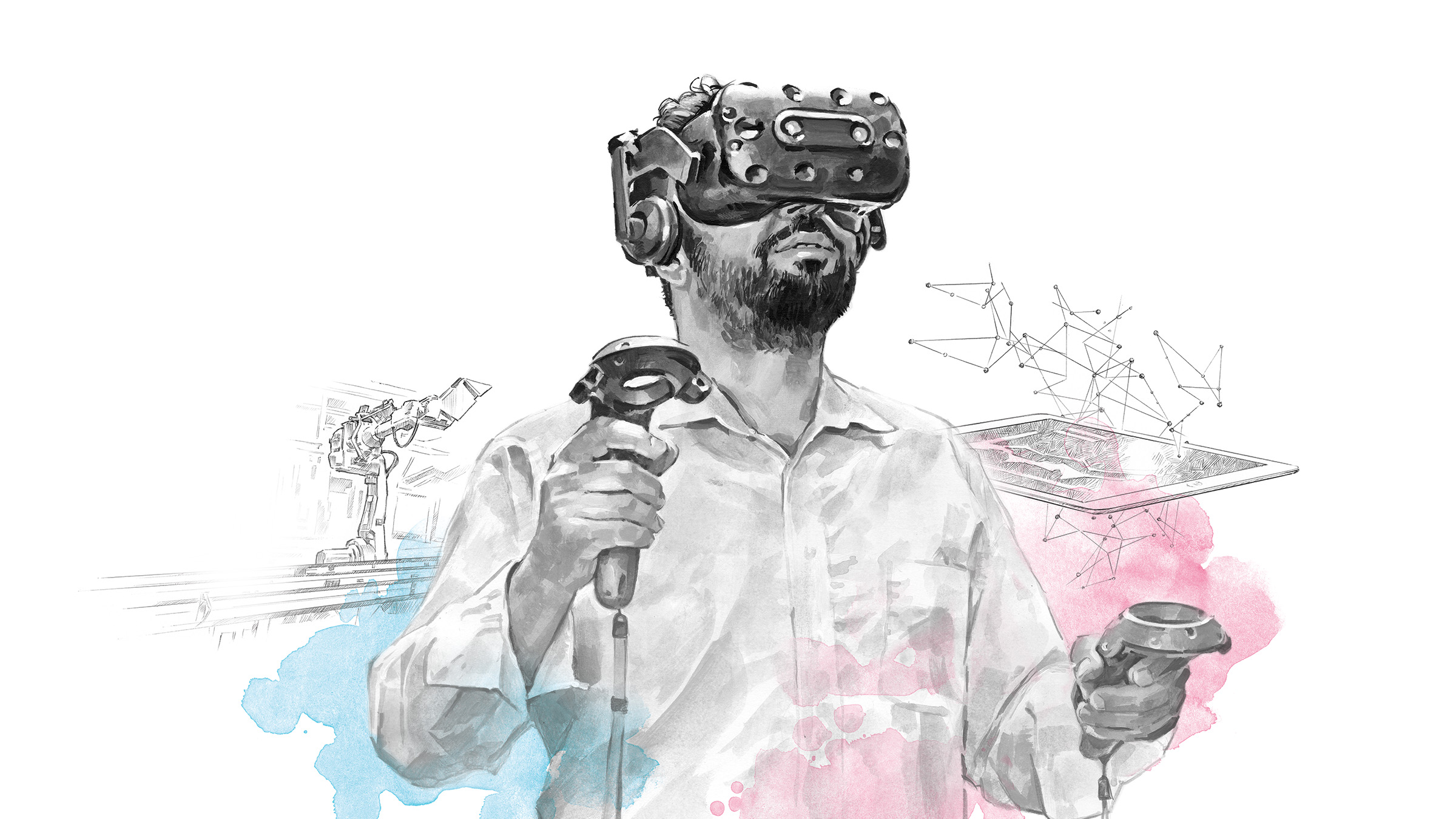 Ekrem Yigitdöl
Vice President Cooperation & Joint Venture Management at Voith Technology & Innovation, Heidenheim (Germany)
Digitization and Industry 4.0 play an increasingly important role for Voith in the context of digital networking – both as a user and as a supplier of digital products. In order to continue to be successful in the market, I see it as my task to transform old processes and structures and to make decisions that drive the necessary innovations and changes. Changes often create resistance and also fears. As a team leader, I am obliged to accompany my employees with confidence.
Meet Ekrem Yigitdöl, our Vice President Cooperation & Joint Venture Management at Voith Technology & Innovation, Heidenheim (Germany).

Ekrem Yigitdöl is responsible for the cooperation with other industrial companies in the field of industrial digitalization at Voith. In his role, he also supports the joint venture companies, which are part of the Innovation & Technology Group Division, in their cooperation within the Group, as well as setting up structures, for example in project management.

To find out more about Ekrem and his work, read the full interview down below.



Ekrem, could you please briefly outline your professional career?
After completing my business studies with a focus on marketing and sales, I was hired directly in the technical environment as an SAP consultant for sales and logistics processes as an SAP-SD Consultant. My path then led via this expert area to management of international SAP implementation projects. A short time later, I took over program management for an affiliated company of my former employer.

After joining the Voith Group in January 2009, my career in this environment shifted from central IT (2009 to 2017) to research and development. Here, I was allowed to transfer Voith's IIoT platform (Industrial Internet of Things) from an initial incubation project to a corporate program and drive the technical development of the platform as well as customer applications. The development of employees in this area, as well as the internationalization of the development teams and the operational organization, took place within the scope of this activity.

In April 2019, I was appointed as a Voith representative to the board of the Open Industrie 4.0 Alliance, a consortium of more than 80 well-known companies striving to advance digitalization in industry. Since April 2020, I have been in my current role as Vice President Cooperation & Joint Venture Management.
Please give us a brief insight into your everyday work. What is particularly interesting about your work?
My daily work is divided into two to three main topics. The most important area is customer projects, currently mainly for our youngest company Voith Robotics. The second area is corporate development in the field of digitalization through cooperation with other industrial companies and also through involvement in associations such as the Open Industry 4.0 Alliance. There, existing solutions are further developed in the interests of both companies and made available to the customer groups and markets accordingly.

The interesting thing is that these fields of activity are intertwined and, viewed as a whole, bring great added value, especially to Voith's end customers. The various fields of activity make my day-to-day work very interesting and varied.
Please describe the working atmosphere at Voith.
I can best describe this in one sentence: "Never let a customer or Voithian down." This way of thinking is anchored in the DNA of all Voith colleagues and helps to achieve common goals, especially in the project business.
What was your greatest accomplishment at Voith so far?
With regard to projects: I played a key role in setting up the digital units (now part of Group Innovation & Technology) in all Voith regions (EMEA, North America, South America and China).

In terms of professional development, I was able to develop into leadership roles through various leadership programs, that Voith holds ready (like the Voith Academy).
Which of the megatrends of decarbonization, digitalization, renewable energies, renewable raw materials, alternative drive systems that Voith addresses with its product portfolio do you serve in your function? Can you describe your task about this in more detail?
Digitization: Many companies talk about data being the oil of the modern age. At Voith, we recognized this early on and use the data obtained, for example in the production of paper or energy with Voith systems, wisely for the benefit of our customers. We have reached the point where we can, for example, recognize anomalies and make predictions for processes so that the parameters can be changed positively and thus the added value can be increased with our systems and solutions.
What innovative technologies are you working on? Can you give us a brief insight here?
IIoT Stack: OnCumulus – Voith's own data hub. We deliberately use this term for our IIoT platform, because it connects existing and usable data from physical devices and plant components in the industrial environment via the cloud. Devices and process data in particular are connected with each other and show the status or performance of a plant or the efficiency of a manufacturing process, for example. Our customers benefit from this because, for example, the use of raw materials can be reduced and energy efficiency can be increased.
Voith is to become the benchmark in sustainability. In your function, can you make a contribution to living up to this claim?
Our digital solutions make a valuable contribution by increasing efficiency in manufacturing processes and reducing energy and/ or decreasing the use of valuable and scarce raw materials. Furthermore, it is increasingly important for our customers, especially OEMs (Original Equipment Manufacturer), to be able to receive information digitally about our products and thus in near real time. Smart products such as Voith drive components are then suggested for maintenance or replacement before a standstill occurs and the need for this has arisen. In this way, no product is unnecessarily serviced or replaced early in the long term.
Why do you think young people or experienced professionals should pursue a career at Voith?
Voith is a champion in industries of everyday life. People all over the world come into contact with Voith as a company every day, without themselves being direct customers of Voith systems and solutions. Due to its internationality and diversity, the Group offers many opportunities to expand your field of activity and to continuously develop as an employee.
What benefits does Voith have to offer that you have also benefited from and continue to benefit from?
Voith offers benefits in a wide variety of areas. On the one hand, there is a very well-thought-out and good employee and management development program in the professional environment. Benefits that have helped and continue to help me personally are the flexible working time models. This makes it possible to combine family and career very well, and work-life harmony is a great advantage for both employer and employee. These options were already made possible at Voith before the COVID era and the increased compulsion to work from home.
What excites you most? What makes you proud to work at Voith?
I enjoy working with Voith customers and Voith colleagues. The DNA of the Group and the partnership-based cooperation all the way to the end customer are tangible and distinguish Voith. It is not for nothing that the motto "never let a customer down" exists. This applies equally to internal and external customers and leads to these long and sustainable partnerships.
Is there anything else you would like to mention at this point? Do you have a particular message that you would like to convey with your interview?
I have been a Voithian for almost 13 years and have experienced many changes and developments during this time. Each of these changes and developments has made me more valuable to the company as an employee but also developed me as a person. That is not a matter of course, and therefore I am very grateful for it!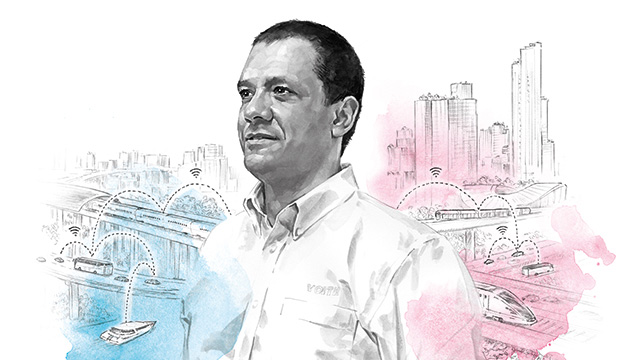 Competent, motivated, and involved
Did you know our most powerful drive at Voith is the talent of our people? Competent, motivated and involved – it's the people that drive our innovation and global competitiveness.
Meet our employees