Up to Speed Everywhere.
Cooling Systems. On the Move around the World.
The conditions under which cooling systems operate is amazing. Under blistering heat or freezing cold, they perform as required. And the requirements are ever more challenging.

Our cooling systems are always perfectly matched to the application and designed to be ideal for the widest variety of vehicle types. They function reliably and precisely. That is why they are requested around the world. And on the move worldwide.
Rail Vehicles Are Becoming Ever More Powerful and Flexible.
Products and Applications
Product Overview
Contact
Voith Turbo GmbH & Co. KG
Alexanderstraße 2
89522 Heidenheim, Germany
Tel. +49 7321 37-4308
rail-vehicles@voith.com
Related Links
Great Input Power Requires More Cooling Capacity.
The completely new axial fan provides it. It simultaneously lowers the noise level of the cooling system. The geometry of the new fan has been improved decidedly, and air flows in and out optimized as regards noise generation.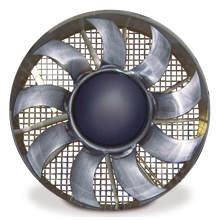 In order to ensure that our air-conditioning equipment also functions reliably in critical climate zones or in chemically aggressive surroundings, we now use a completely new coating system based on nanotechnology. This makes it possible to install smaller coolers that provide the same performance and weigh less. Less accumulation of dirt means longer maintenance intervals. Smaller cooling systems reduce vehicle weight – and thus fuel costs. Good for the operator and the environment.