The range of tissue paper uses
Tissue papers improve our everyday lives. They are tear-resistant, highly absorbent, soft and sanitary. Due to improved standards of living and hygiene, the global consumption of products, such as paper handkerchiefs, kitchen towels, napkins and toilet paper is increasing rapidly. On average, a person living in an industrialized country uses several kilograms of tissue paper every year.
Voith – Your supplier and partner for successful tissue paper manufacturing
Experts predict steady growth: By 2025, the worldwide production of tissue items will reach over 50 million tons per year – tendency rising. Within the paper segment, the tissue market is regarded as dynamic, innovative and future-oriented.
Therefore, manufacturers need a reliable partner. As a leader in technology and innovation, Voith drives the paper market worldwide. Voith not only offers a wide range of service solutions but also provides high-quality components, fabrics and roll covers. As a pioneer in digitalization, Voith shapes today's tissue market and lays the foundation for a successful future in close collaboration with its customers.
Products, components and services
The new ProServices from Voith, BTG and Toscotec
With our ProServices, we offer a modular Yankee service portfolio with eight different services for tissue manufacturing to increase production efficiency.
On-Site Yankee Services – Where safety and productivity matter
Maintenance and service are the keys to efficient paper production. From grinding and coating to mechanical service and diagnostics, Voith offers a reliable and fast cylinder inspection service. Thanks to our extensive know-how and years of experience, our solutions are setting standards in the tissue industry.
FilmLube – Integrated Uhle box lubrication
Uniform conditioning of press felts is crucial for paper quality and machine runability, especially on high-speed tissue machines that operate above 1,500 m/min. In conventional systems, the Uhle boxes are lubricated by low pressure fan showers, which often get blocked and cause localized felt abrasion and a drop in felt performance. Thanks to a novel design, Voith's FilmLube ensures uniform lubrication at all times.
EcoChange T – Minimized core waste and highest turn-up efficiency
The tambour changing system EcoChange T ensures the highest changing reliability with minimum broke quantities at the reel core at maximum operational safety. In this way, the overall efficiency of the change process is increased significantly. The open design provides optimum accessibility for setting, cleaning and maintenance.
CleanLine Excell – Consistent and uniform cleaning
For highly effective surface and structure cleaning of forming and press fabrics, CleanLine Excell is a superior alternative to oscillating high pressure needle jet showers and standard traversing showers. The system uses less water (and energy) than high pressure showers, significantly reduces chemical cleaning and is even suitable for fine fabric surfaces.
TerraDry HC+ – High performance coating
Offering higher productivity and less downtime, the repellent and resistant TerraDry HC+ is a high-performance coating for Yankee cylinders specially designed for protection against excessive corrosion and wear.
QualiFlex CrestT & CrownT press sleeves – Ultimate dewatering
With CrestT and CrownT, Voith offers two superior press sleeves for tissue shoe press applications. They enable stable machine operating conditions and increase efficiency. Selected polyurethane materials ensure the highest possible abrasion resistance even under challenging temperature conditions. Both the open area and void volume can be designed exactly to your needs.
ProTect – Safe felt measurement system for the press section
ProTect is an inexpensive and nonetheless extremely safe solution for exact and repeatable measurements of the various press fabric parameters. It replaces the manual measurement work performed by the service personnel with a mechanical system. Its self-propelled carriage transports any variety of measuring device along a traversal beam, which keeps the operator out of danger outside the fabric run. The system can be used at various points in the press section. For maximum flexibility, the easy-to-operate ProTect accommodates a wide range of measurement equipment to suit individual requirements.
Forming and press fabrics – Higher runabilty and paper quality
Forming and press fabrics significantly impact the productivity and overall quality in tissue manufacturing as well as throughout the entire paper production process. To meet specific customer requirements, our unique portfolio contains a wide range of forming fabric and press designs – suitable for all tissue paper machine configurations.
Our experienced engineers will support you in selecting the best fabric design to meet your tissue production's individual requirements.
Personalized Voith Paper Webshop – Simple, automated order handling
The Voith Paper Webshop is the shortest, easiest and fastest way to your original Voith parts. It enables registered users to view all information about a machine at a glance in the personalized myVoithPaper section – from the original delivery to the order history and operating instructions. Seamless integration of the Voith Paper Webshop into the customer's purchasing system enables optimized processes and reduced administration costs. Of course, a secure exchange of data is guaranteed.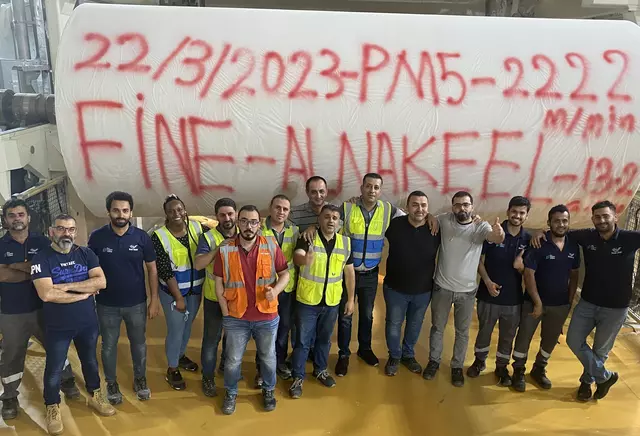 Voith and BTG products drive Fine Hygienic Holding to set new world record in tissue production
Joint world record
Fine Hygienic Holding, one of the world's leading manufacturers of high-quality hygiene products, was able to set a new world record in tissue production in their Al Nakheel mill in Abu Dhabi, UAE. This success was accomplished through a combination of state-of-the-art technology, a highly qualified team and flawless collaboration between Fine Hygienic Holding, Voith and BTG.
Read the success story
Discover our broad portfolio for your tissue paper production
More interesting topics for you
Voith Paper Newsletter
Subscribe to our newsletter and stay informed about news in the world of Voith Paper
Always get the latest updates on new products and services, projects, campaigns and success stories as well as upcoming exhibitions and conferences – straight to your inbox.
Subscribe now