More than lightweight – Realize your vision in carbon fiber construction.
The unique combination of engineering competence and production know-how, as well as the outstanding characteristics of fiber composites, creates maximum value for you.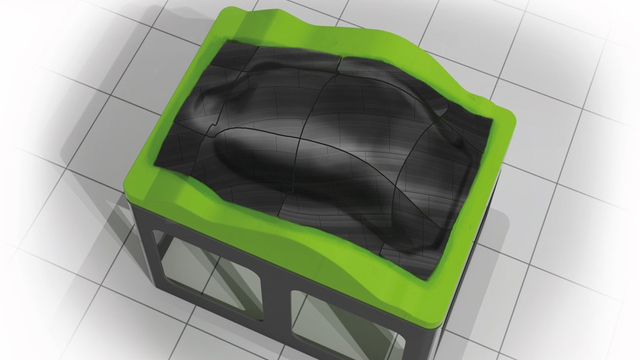 Carbon/epoxy Stacks for Tooling
Carbon4Tool
We provide you with Carbon/epoxy multi-layer tiles in 300x300mm for easier and faster composite tool manufacturing. Our online quality control ensures high quality at any time. Carbon4Tool leads to drastic reduction of manual labor and human mistakes and increases your output significantly – tool production can become up to 75% faster. Small lot sizes enable just-in-time material consumption and reduced scrap. Tailored tooling kits are also available.
Get in touch for more information
PREPREG STACKS for components
Carbon4Stack
We design and produce customized ready-to-mold prepreg stacks in a fully automated process. Our proprietary direct fiber placement allows for optimized fiber layup, including local reinforcements in any fiber angle and minimum scrap. Carbon4Stack products lead to signifcant reduction of manual labor and are suitable for press, autoclave and OoA processes. They are also available as Carbon4Visual thanks to an outstanding surface quality and drapeability.
Get in touch for more information
Rolls, shafts and pressure VEssels
Filament winding products
Our Carbon4Roll and Carbon4Shaft products are manufactured with a high-precision filament winding process. The carbon or glass fiber is pulled from the coil, led through a resin bath and wound onto the mandrel. We manufacture rolls with lengths of up to 13 m, diameters up to 1.2 m and wall thicknesses of up to 70 mm. In addition, we are currently developing Carbon4Tank, a type 4 CFRP hydrogen high-pressure vessel for fuel cell applications.
Get in touch for more information
Find out about our current applications and successfully implemented composite projects:
Structural component
Audi A8 CFRP rear wall
The rear wall is customized for the Audi A8 and displays the largest component of the occupant call. With its optimized fiber layup with 6 to 19 carbon fiber layers, it significantly contributes to the torsional rigidity of the vehicle. The rear wall is manufactured in Voith Composites' in-house developed production line and is designed to manufacture approximately 65,000 components each year. At JEC World 2018, we received the JEC Innovation Award 2018 for this digital production line.
digital production line wins JEC Award 2018
Visual applications
Class A Prepreg stacks
Thanks to their outstanding surface quality (no print-through) and high drapability, our Carbon4Stack and Carbon4Visual products are also being used for Class A and visual applications. The usually required rework can be drastically reduced or even eliminated when working with our stacks.
Fuel cell applications
Carbon4Tank: CFRP hydrogen high-pressure vessels
Voith Composites works on the next generation of hydrogen high pressure (700 bar) vessels for fuel cell electric vehicles (FCEV). Nowadays, reducing process costs in combination with new vessel concepts is of decisive importance. At Voith Composites, the finite element method (FEM) and winding simulation, as well as accompanying quality management during development, ensure qualitative results. Fast development loops due to the short distance to the test facilities also support this.
Paper industry
Carbon4Roll: High quality carbon fiber rolls for paper machines
Guide rolls made of steel are often operated above their capacity limits, which can result in vibrations and thermal deformations. Unlike steel, the strength and rigidity of CFRP rolls can be adapted to the specific requirements without altering the installation space. Moreover, the much lower density ensures a significant weight reduction. CFRP components also offer a range of other benefits, like low thermal expansion or excellent running properties. Thus, composites are typically used for various guide rolls along the entire paper manufacturing process in the paper industry.
Various industries
Carbon4Shaft: High performace carbon fiber shafts
Due to its high specific stiffness and strength, CFRP is very well suited for use in drive shafts. The performance of the material often allows a reduction in the overall costs of the system; the one-piece design avoids cost-intensive bearing points. Due to the favorable ratio of stiffness to density, CFRP drive shafts achieve a significantly higher critical bending speed than steel shafts.
Paper Industry
CFRP applicator beam for the SpeedSizer AT film application unit
In the papermaking process, the SpeedSizer AT improves the paper characteristics, penetration and surface coverage in a targeted fashion. Classical applicator heads are built from stainless steel, steel or cast iron. Thermal influences cause deflections at the applicator head, which can result in poor CD profiles producing coated papers. The use of CFRP achieves optimal film application with outstanding CD and MD coat weight profiles throughout all operational conditions. With a CFRP beam, the systems needs no temperature-controlled heating system, which ensures dimensional stability at all. The results are optimal profiles over the entire life cycle and lower energy consumption.
Marine
CFRP blades for the Voith Inline Thruster
In cooperation with Voith Turbo, blades for the Voith Inline Thruster (VIT) were manufactured from CFRP. This set a new standard for the coating quality of anti-cavitation coating. Moreover, the blades are characterized by a high UD proportion.
Structural component
CFRP duct segment
Voith Composites designs and produces components for the aerospace industry, including seat components, tanks, linings, overhead storages and ducts. With the use of carbon fiber, the shown duct segment is temperature-stable, high load capable and incredibly lightweight.
Talk to us about your vision!
Our preforming technologies
We continue to enhance our expertise in numerous development projects – on our own and with research and industry partners.
R&D and production center
Voith Composites is the R&D and production center of carbon fiber-reinforced composites within the Voith Group. At two locations, our highly qualified experts develop machines for the manufacture of prototypes up to serial production. We are working with state-of-the-art development tools:
Design with CATIA and Inventor
FE simulations using ANSYS and Abaqus
Material analyses using DMTA, TGA, CT and microscopy
ThinPly
Engineering
Using our know-how from real-life customer projects and ongoing research, we provide strong support at every stage of the development phase. From the start, we offer feasibility and concept studies for composite parts, tooling and special machinery. Working at any depth of detail required, we develop our customer's ideas using mechanical design (CAD) to structural and process simulation (FEA) to virtual process layup – always keeping composites-based design and cost-efficient manufacturing processes in mind.
Voith Composites - More than lightweight: Your expert for CFRP stacks
Voith Composites - More than lightweight: CFRP rolls
Get in touch with our experts
Michel Bailly
Head of Sales and Marketing
t +49 89 32001 845
Send an email
Jacopo Oddone
European Sales Manager Prepreg Stacks
t +49 89 32001 843
Send an email
Marc-Antonio Padilla
European Sales Manager Rolls & Shafts
t +49 89 32001 841
Send an email