Easy order processing:
Voith Paper Webshop
Simple, transparent and customized

In the Voith Paper Webshop, papermakers around the globe are able to purchase Voith products and services quickly and easily around the clock. But the new online platform offers more than just an easy way to purchase replacement parts.
Each paper machine is individually assembled and consists of many individual components. Uniquely identifying required replacement parts in case of need is a real challenge. The Voith Paper Webshop enables registered users to view all information about a machine at a glance in the personalized area My shop: from the original condition of machines to their current condition, from order and quote history to documentation like manuals, drawings and contracts. Seamless integration of the Voith Paper Webshop into the customer's purchasing system enables optimized processes and reduced administration costs; while a secure data exchange is guaranteed, of course.
Voith Paper Webshop – The shortest, easiest and fastest way to your original Voith parts.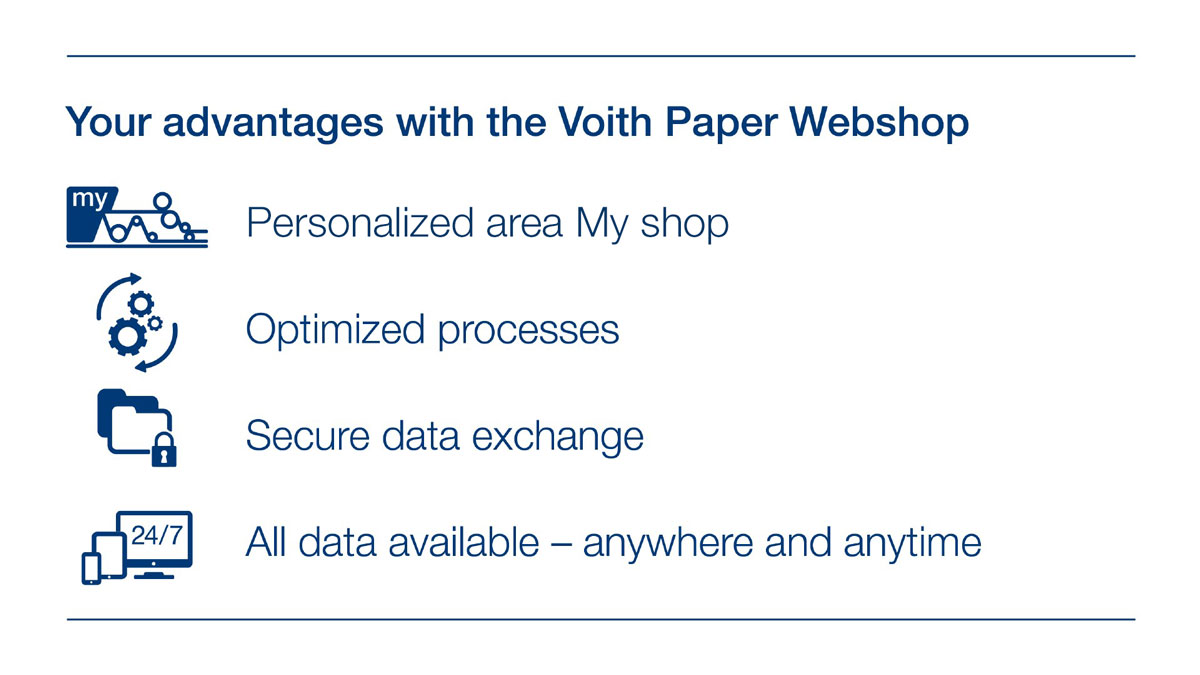 Webshop Features
Spare and wear parts catalogs
Product configurators
Personalized area My shop, including your machines, order and quote history and documentation
Order tracking

Your contact – How can we help you?

Webshop helps paper company with a large U.S. footprint save time and money
A company operating a paper mill in the Midwestern U.S. is a stock preparation customer of Voith. The mill was looking for an opportunity to cut costs and approached Voith to submit proposals to do so.
Perlen Papier AG orders around 90% of all spare parts via the Voith Paper Webshop
The customer-focused setup of the online platform allows customers to easily find and order all parts with just a few clicks. In addition, the extensive order history and order tracking make maintenance work more effective.
Being able to see the current availability of parts also allows the Perlen team to maintain a lean spare parts inventory.
LEARN MORE ABOUT THE SUCCESSFUL INTRODUCTION OF THE VOITH PAPER WEBSHOP AT PERLEN
Social Media News and Press Release