Torsional vibrations under control
Voith highly flexible couplings shift resonance frequencies in a driveline below idle speed. They also dampen critical torsional vibration amplitudes and shock loads.
Manufacturers and operators have big expectations regarding the productivity of their vehicles and systems: high reliability and short downtimes together with a low total cost of ownership.
Highly flexible couplings from Voith are specially developed for these requirements. They protect the driveline and thus extend the lifetime and availability of all connected drive components. In this way, they increase the productivity of the vehicle or system.
More than 45 years of experience in perfecting drive systems that are subject to torsional vibrations are the foundation on which the relationship with our customers is built.
Customer benefits
Increased availability of all components in the driveline
due to damping of torsional vibrations and shock loads in the driveline
Decreased life cycle costs
due to increased lifetime of all driveline components
Increased comfort
due to less vibration and noise
Find the right product for your generator set in a few simple steps
Flexible CT-H couplings transfer power safely and are ideally suited for generator sets where space is limited and the generator is connected directly to the engine housing.

Voith Service – how can we help you?
Why use Voith Service?
Everything from a single source: development, design, production – and service!
Decades of product experience as an original equipment manufacturer and service provider
Fast and smooth cooperation and best service thanks to a worldwide network of service locations
Long-term partnership and planning security are guaranteed due to longstanding corporate stability
To our entire service portfolio
The right solution for every application
Rail vehicles
Diesel locomotives
DMU / Railcars
Special vehicles / Rail construction vehicles
Construction equipment
Wheel loaders
Rigid & articulated dump trucks
Underground mining vehicles
Motorgrader
Fire trucks
Tow tractors
Reach stacker
Mobile cranes
Test rigs
Development test rigs
End-of-line engine test rigs
Brake test rigs
Combustion power generation
Generator sets with a diesel / Gas combustion engine
Oil & gas industry
Reciprocating compressor sets
Pump sets
Crusher, Mills and Shredders
Stationary crushers
Stationary mills
Stationary shredders
Marine
Containerships
Tugboats
Pleasure boats / Yachts
LNG carriers
Cruise ships
Offshore supply vessels
The individual components of a driveline are made of elastic materials (e.g., steel) and have a mass. Accordingly, they represent a system susceptible to torsional vibration. If this system is incited, it will start vibrating with a determined frequency – its natural frequency and amplitude.
If a highly flexible coupling is installed, the vibration amplitude will become a finite value. A reciprocating diesel engine does not convey its power evenly over one rotation of the crankshaft. That is why a diesel engine puts a heavy load on the drive train.
This is amplified by the new injection technologies with very high injection pressures, which have been introduced in the recent years. Additionally, there is a trend toward downsizing of engines, which means fewer cylinders, lighter mass inertia and even higher injection pressure.
A driveline will normally consist of:
The driving machine (prime mover)
Coupling elements (couplings, gears, etc.)
The driven machine (power consumer)
A useful operational strength and unit lifetime is often achieved only after a highly flexible coupling has been installed in the driveline.
All drivelines can be divided into one of the three methods of installation:
Remote-mounted arrangement
Driver and driven machines are installed on different foundations and located relatively distant from each other.
The bearing that guides the joint shaft is integrated into the coupling design.
The weight of the joint shaft and coupling is transmitted to the rear crankshaft bearing.
Depending on the coupling series, friction or antifriction bearings are used.
The friction bearings follow any relative twist of the coupling performing an oscillating rotary movement. This increases the damping factor of the coupling.
Separate-mounted arrangement
Driver and driven machines are installed on different foundations and located relatively close to each other.
Driver and driven machines have elastic supports and can therefore vibrate in the axial, radial and angular direction relative to one another.
The coupling compensates for these movements by having universal flexibility in axial, radial and angular direction.
Bell-house-mounted arrangement
The driven machine is directly flanged onto the engine flywheel housing.
The highly flexible coupling is designed as a blind assembly unit since it needs to be mounted at the same time as the driver and driven machine are bolted together.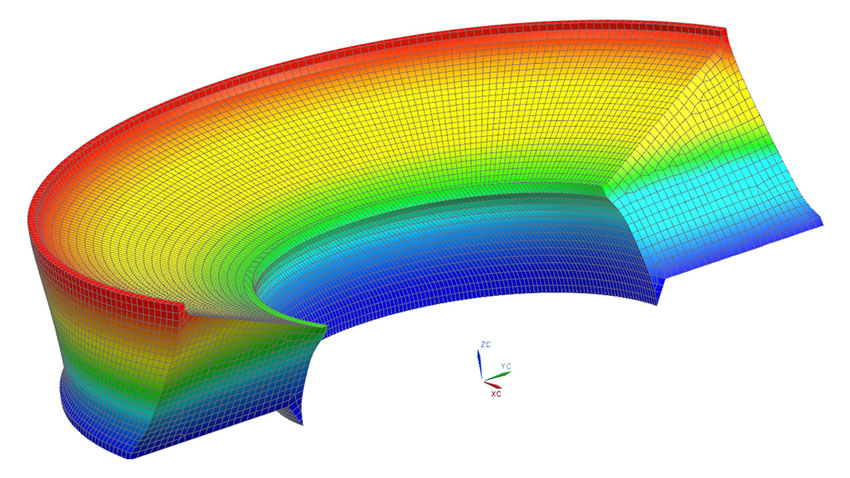 We supply not only products, but ideas too. Benefit from our many years of experience in all aspects of driveline project planning:
Conceptual design of the driveline
Torsional vibration calculation (TVC)
Torsional vibration measurement (TVM)
Fatigue analysis (FA)
Torsional vibrations under control

PDF

English

Minimum downtimes with high flexibility for test rigs

PDF

English

Vibration dampers for construction vehicles

PDF

English

Protecting gensets in the long-term

PDF

English

Raising the productivity of your compressor drive

PDF

English

Increasing the reliability of steel mill drives

PDF

English