OnCare.Health Marine
Reduce maintenance costs and
minimize downtimes
Our system protects your hardware.
How? By continuous monitoring and timely alerts.
With a Voith Schneider Propeller (VSP), you are always in a position to react quickly to challenging situations and unforeseen external influences. OnCare.Health Marine is the perfect complement to this propulsion system and allows you to respond equally as quickly to the slightest irregularities in and on the VSP.

Predictive maintenance
The cloud-based solution monitors all relevant systems in real time and raises the alarm as soon as critical and predefined values occur. This allows predictive maintenance or prevents unforeseen vessel downtimes.

Faster than machine damage
Avoidable machine downtime is not just annoying but also expensive. A vessel in a dry dock is not transporting passengers, supplying oil rigs or towing tankers. Reduce this unproductive time! The reports from OnCare.Health Marine will show you which maintenance measures are necessary long before any damage occurs. You can order replacement parts in good time, book dry dock slots and schedule technicians – substantially reducing downtimes as a result.

Maintenance 4.0: Everything under your control
OnCare.Health Marine is a completely new approach to maintenance and represents a shift from periodic maintenance to preventive maintenance. The technology continuously monitors all relevant systems of your ship's propulsion system and informs you about any irregularities. This allows you to be proactive, so you are always one step ahead of any major damage.
Early detection of damage saves time and money and reduces stress
There are nearly always early warning signs of machine damage. The trick is to identify these signals and interpret them correctly. OnCare.Health Marine continuously evaluates the data from various sensors, identifies the crucial early warning signs of serious problems, and produces customized reports and optimization proposals for the operator who is able to define the alarm settings according to their needs via an intuitive user interface on board the vessel.
The alarm settings are defined on board the vessel as required. An OnBoard interface opens further interface possibilities to other on-board systems (DP, NMEA data, alarm system, etc.). The whole system works together with the OnCumulus cloud storage.
Wouldn't it be nice …
to significantly increase the availability and reliability of your Voith Schneider Propellers with user-friendly software?
to substantially reduce your maintenance and repair costs through a preventive maintenance strategy?
to be able to schedule dry dock slots, procure replacement parts in good time and save time and money thanks to timely warnings about problems?
OnCare.Health Marine makes it possible!
Voith Schneider Propeller (VSP) and
OnCare.Health Marine – the perfect match
OnCare.Health Marine has impressed users worldwide, whether on tugs, wind farm service vessels, cable-laying vessels, double-ended ferries or offshore diving boats. In other words, wherever the strengths of a VSP are on display, the condition monitoring software OnCare.Health Marine is also the solution of choice – because predictive maintenance reduces downtimes and costs.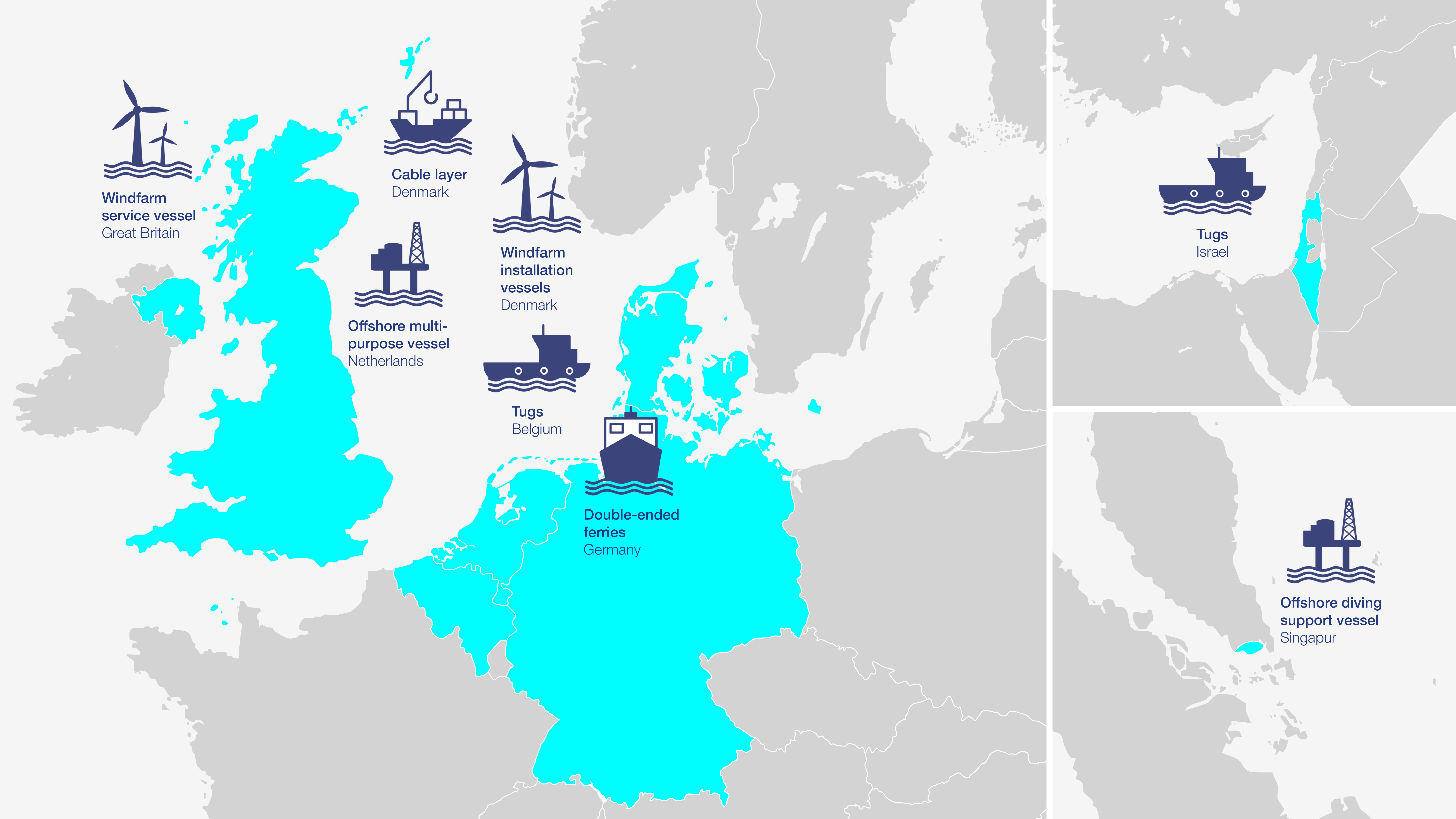 OnCare.Health Marine is a value-added offering from Voith specifically for users of the Voith Schneider Propeller – a solution from a single source by the engineers who designed and built the VSP product.
The benefits of OnCare.Health Marine at a glance:
Prevents serious damage due to timely warnings and recommendations on preventative action
Significant reduction in unscheduled maintenance stoppages and downtimes
Remote support from the experts
Installation on board
Intuitive user interface
Customized alarm settings, reports and optimization proposals
System availability service
Voith Service for OnCare.Health Marine
OnCare.Health Marine (OCHM) is a cloud-based solution for naval vessels with a Voith Schneider Propeller (VSP). The system monitors all relevant processes in real time and raises the alarm as soon as critical values occur. This prevents unforeseen vessel downtimes and allows predictive maintenance. Spare parts procured in a timely manner shorten the time on the dry dock.
Our service strives to minimize downtimes and maximize the lifespan of your VSP. To make this possible, we implement a holistic service concept that also takes OCHM into account. Our global service team is pleased to assist you with all your questions.
Why use Voith Service?
Everything from a single source: development, design, production – and service!
Decades of product experience as an original equipment manufacturer and service provider
Fast and smooth cooperation and best service thanks to a worldwide network of service locations
Long-term partnership and planning security are guaranteed due to longstanding corporate stability
To our entire service portfolio
Find more information in the OnCare.Health Marine brochure
Condition monitoring solution for Voith Schneider Propellers (VSPs) OnCare.Health Marine

PDF

English
Do you have more questions about OnCare.Health Marine?
Our FAQs can provide the answers. If your query is not covered, pleased don't hesitate to contact us. We'll be happy to help.