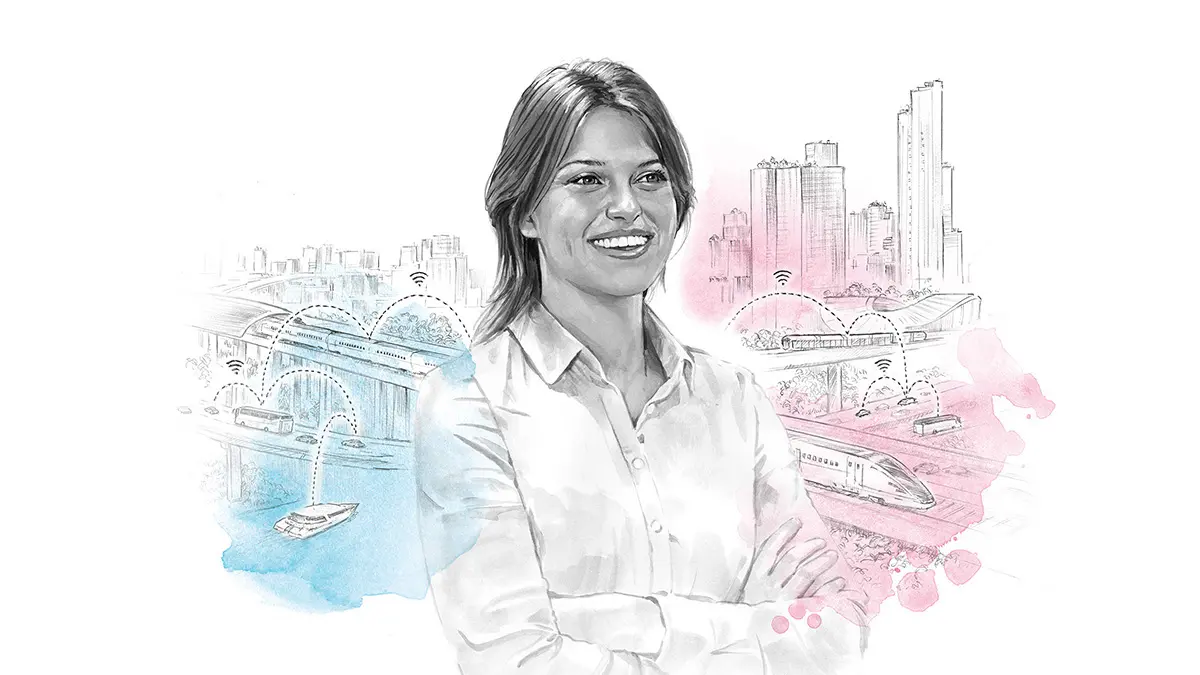 Elisabeth Krämer
Dual student in Business Administration – International Business, Voith Group, Heidenheim (Germany)
In the three years of my integrated study program, I have been eager to explore new projects, departments and locations. In unfamiliar situations, it seems crucial to me to stay curious and open-minded in order to adapt to and learn from them. I feel like getting in touch with new methods, opinions, backgrounds and perspectives is what supports personal and professional growth the most.
Meet Elisabeth Krämer, our dual student in Business Administration – International Business, Voith Group, Heidenheim (Germany).

Elisabeth, 20 year old, is a dual student in the degree program Business Administration – International Business.

To find out more about Elisabeth and her work, read the full interview down below.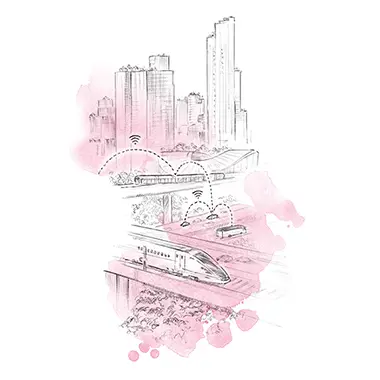 Elisabeth, why did you choose the dual study program at Voith?
Since I did not know about Voith before I applied, I attached great importance to my personal assessment and my feelings during the selection process, the assessment center and the personal interview. I felt that I was being challenged, but in a pleasant, appreciative environment. I felt comfortable, so I was all the more pleased that I was able to convince as an applicant. It was also important to me that my partner company had a certain international standard, which Voith does with locations in more than 60 countries.
Why this course?
For me, international business was the perfect combination of the subjects I enjoyed most at school: business & law, math and foreign languages. So far, I have particularly enjoyed the lectures on intercultural understanding. I hope that I can expand my own intercultural competence during the planned stays abroad.
How is the course structured and where have you spent your practical phases so far?
The course lasts for three years. Every three months there is a change from theory to practice and vice versa. I spend the theoretical phase at the DHBW in Heidenheim. In the practical phase, I get to know different departments at Voith. I am currently at the end of my first practical phase, which I spent in Employer Branding and Diversity & Inclusion. For my next practical phase, I could imagine getting to know purchasing more closely.
Please tell a little bit about your previous assignments.
I have already been able to take on various tasks in employer branding and D&I. For example, I worked on a success story interview campaign on the subject of D&I, where I was in contact with the various regions, wrote interviews and implemented social media posts. I worked on D&I SharePoint. In further interviews, I asked SIBE students and alumni about their experiences. I helped with the planning of the Diversity Month, which took place virtually in May.
What skills or qualities should possess if you are interested in this degree?
Since around 50% of my lectures are in English, you should be open to using the English language. I think you should be open-minded and curious in all dual study programs so that you can take as many new things with you into the departments as possible. It helps to be communicative and proactive, but you grow with your tasks.
Please describe the working atmosphere at Voith.
What I have noticed about the Voith working atmosphere so far (mainly in the home office) has been consistently positive. My team is super nice and open-minded. As students, we are often allowed to take on responsibility, but we are not overwhelmed and can say openly if we are stuck with something. Everyone on the team can come up with new ideas or initiate new projects. Dealing with one another is always friendly and respectful. Above all, the appreciation that I received from my colleagues in my brief assignment was good for me personally and motivated me.
What did you enjoy most during your studies so far? What has been your greatest achievement so far?
So far, during the practical phase, I have most enjoyed exchanging ideas with teammates. I noticed how I personally grew a lot and discovered new things in such a short time. I also really enjoyed the rare days in the office when I was able to spend lunch breaks with my fellow students. In autumn I was also at a Voith get-together, which is now suspended. It was cool to get to know interns and older students from other courses there.
What is particularly interesting about your studies?
Personally, what I find most appealing are the intercultural and international opportunities that are available to me during, but certainly also after, my studies. I find the contact with different regions and Voithians internationally very exciting. I think it's particularly great that under normal circumstances you would have the opportunity to spend a theoretical and a practical phase abroad as part of the three-year course.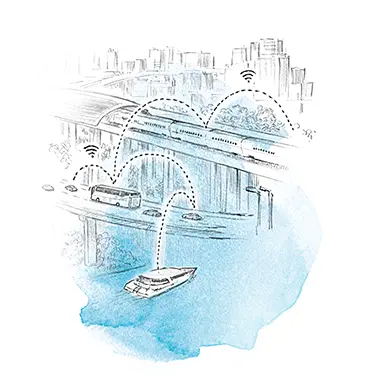 Why do you think young people should start a career at Voith?
In my opinion, it is worthwhile for young people to embark on a career at Voith, because here you are looked after by a great and attentive team during your training/studies and you have the opportunity to get to know a large company with many departments. Because there are a relatively large number of apprentices/students at Voith, you can also make many contacts with people who are the same age and like-minded. If you want to work on large projects or temporarily abroad, I think that as a young person with Voith as an employer, there are many opportunities open to you.
What makes you proud to work at Voith?
Although I haven't known Voith that long and do not have any roots in the region, I think it's great how much tradition and history this company has and how well-known it is in the region. When friends who don't know Voith ask what my dual partner is doing, I like to tell them, for example, that Voith supplied turbines for the power plant at Niagara Falls over a hundred years ago and that every third sheet of paper comes from a Voith machine. Those are cool Voith facts. But what I think is important and good, especially with regard to Voith's long-standing presence, is that Voith is aware that it has to keep pace with the times and stay innovative. Topics such as diversity and inclusion are now more important in the move to the fore.
Do you see Voith as a sustainable employer?
I definitely see Voith as a sustainable employer. On the one hand, it focuses on a large variety of products and industries through its four divisions, which guarantees the broadest possible and therefore secure positioning of the company. On the other hand, due to the size of the group and the many locations and projects, you can take advantage of so many different professional opportunities.
What benefits does Voith offer its students and which ones did or do you benefit from?
Before I started my studies, the DHBW offered new students the opportunity to take preparatory mathematics courses. These were recommended and paid for by Voith. There is also a general education budget for the three years that is available to every student and can be used, for example, for teaching materials or further training. During the semester abroad in the practical phase, accommodation will be provided by Voith and the costs for the flight will be covered. In general, Voith offers students fair pay according to the tariff and a full 30 days of vacation, even though they only spend half of the year in the company. Even as a student, you already have the option of working on the flexitime model, which is of course very practical.
Do you have any wishes for your professional future at Voith? What do you want to do after your studies?
At the moment, I don't know what I would like to do professionally or in school after my bachelor's degree. Due to the coronavirus situation, it may be that I cannot be hired on after my studies. I think I would like to earn my master's degree, either part-time with Voith, or if that is not possible, as a full-time student. I would also find it very attractive to work at a Voith site abroad for a longer period after my studies, but who knows how I will see it in two or three years.
How would you describe Voith as a company in three words?
International - Committed - Very promising
What advice would you like to give to future students?
Stay open and curious, use the time to learn and get to know as many new things as possible!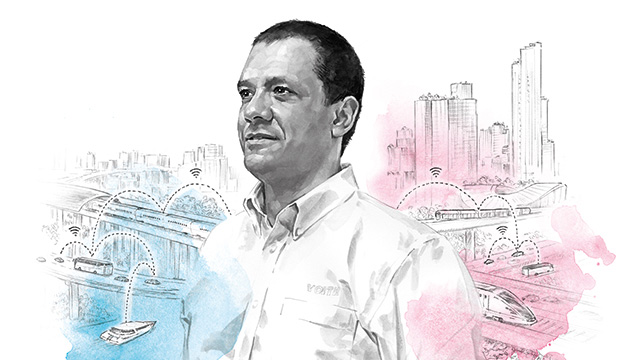 Competent, motivated, and involved
Did you know our most powerful drive at Voith is the talent of our people? Competent, motivated and involved – it's the people that drive our innovation and global competitiveness.
Meet our employees