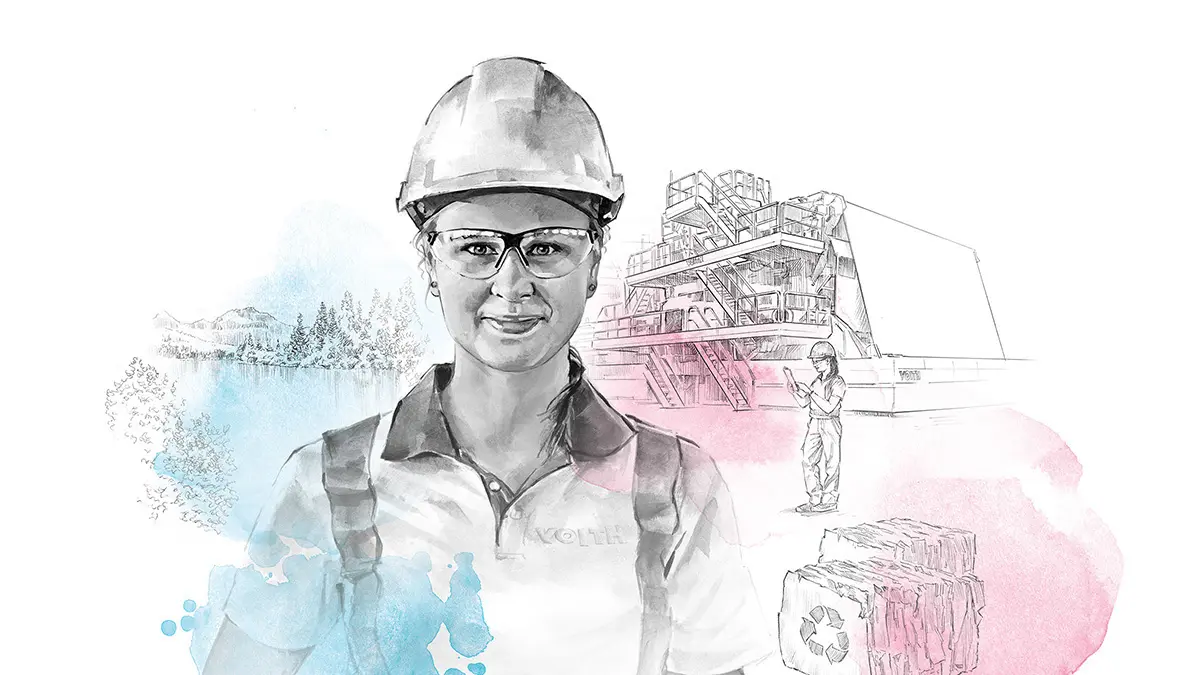 Julia Spengler
Technology Manager Calender, Voith Paper, Heidenheim (Germany)
To collaborate with colleagues from different cultures is a great enrichment for me. In my experience, where different minds meet and work together on a project, best ideas and innovations arise.
Meet Julia Spengler, our Technology Manager Calender, Voith Paper, Heidenheim (Germany).

Julia Spengler works as Technology Manager Calender at Voith Paper in Heidenheim. She started her dual studies to become a mechanical engineer according to the Ulm model in 2012. During her undergraduate studies, she completed an apprenticeship as an industrial mechanic at Voith at the same time, so she spent a few months working in the transmission assembly department, as well as in the transmission test bench at Voith Turbo. After the training, she was able to visit other departments during the practical phases.

For example, she spent four weeks in Roermond in the Netherlands during the commissioning of a paper machine, where she discovered her enthusiasm for large-scale plant engineering. Julia finds it fascinating how a pile of steel can be turned into such a fine, millimeter-precise production line. She ended up writing her bachelor's thesis in Voith Paper's R&D department on the calendering process and was then hired as a section technologist for calenders. She takes care of the part of the paper machine that takes care of calendering the paper. In her opinion without the dual study program she would not have ended up in this position – her dream job.

To find out more about Julia and her work, read the full interview down below.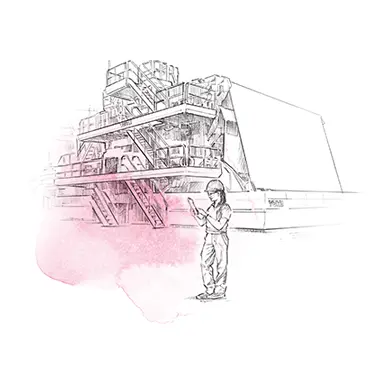 Julia, please give us a brief insight into your everyday working life.
My day-to-day work is very diverse and varied overall. My main task is to support my colleagues during the sales process and to make sure that the calender is properly designed in the machine to meet the technological guarantees. I see myself as an interface, because I can be involved anywhere that somehow involves calenders, which means patents, research, trials, sales, standardization, automation, commissioning – as a technologist, you can really do it all. No two days are the same, as new tasks often crop up spontaneously, which keeps the working day extremely varied.
What is your collaboration like with other departments and with colleagues from other regions?
Our team is a mix of Americans, French, Chinese, North Germans, Swabians, Bavarians – and also cross-generational, which means that many different opinions and points of view come together. Of course, there are also many interfaces with other departments. There is close cooperation with colleagues from product management, R&D, testing, commissioning, automation – in other words, all departments that are needed around the calender. I have also spent several weeks at customers' sites for commissioning or after-sales service, and we support our colleagues with many projects in Asia. I look forward to going to the customer every time anew, because it's always something new, because every customer and every plant is different.
What is particularly interesting about your work and what excites you the most? What makes you proud to work at Voith?
In my work, I am always confronted with new challenges. Solutions can't be transferred from one project to another; you always have to find new ways and approach new problems with an open mind. That way, there is no daily routine and no boredom.
Please describe the working atmosphere at Voith.
Overall, the working atmosphere at Voith is very open; we live a "speak-up culture" with flat hierarchies. Lively and animated discussions are not uncommon here – decisions are made as a team, solutions are found together. We support each other across departments and at eye level, and everyone contributes their share to the success of a project.
What was your greatest success at Voith?
My greatest success was achieving the quality targets and then the final project completion on two important projects relatively shortly after I was hired as a section technologist. This taught me that sometimes you can achieve just as much with commitment and interest as with many years of professional experience. A successful commissioning in Kehl (2019) was also a great experience.
Which of the megatrends of decarbonization, digitalization, renewable energies, renewable raw materials, alternative drive systems that Voith addresses with its product portfolio do you serve in your function? Can you describe your related task in more detail?
The specialty paper sector is currently on the rise. There is a continuous search for ways to replace plastic packaging with more environmentally friendly paper packaging. Of course, the end consumer does not want to do without the advantages of plastic packaging, so the development of specialty papers is indispensable. In the production of these papers, the calender plays an important role in achieving certain functions and properties of the paper. For example, in the production of environmentally friendly sales slips, to obtain the desired paper property, various "color" layers are applied, which the calender then has to smooth out again.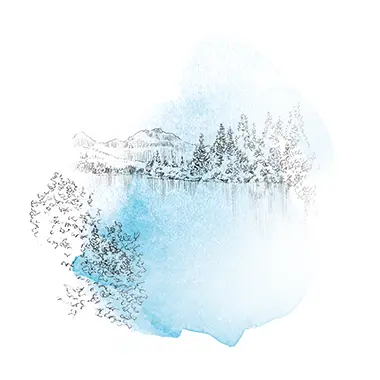 What innovative technologies are you looking at?
Product quality can fluctuate due to lack of control of sub-processes at various stages of production. With the help of OnEfficiency Strength, our virtual sensors, these processes can be optimized, stabilizing product quality and reducing costs. As a technologist, I help define the required target variables, as well as evaluate the necessary data.
Voith is to become the benchmark in sustainability matters. In your function, can you make a contribution to living up to this claim?
I think I'm part of the big picture that contributes to this, and also I'm making a direct contribution, because everything always starts on a small scale. If one part doesn't participate, then the whole doesn't move either. That's why we all have to work together.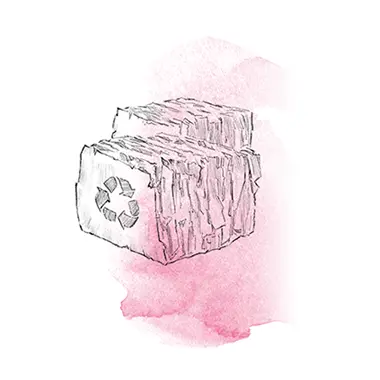 Why do you think young people or even experienced professionals should pursue a career at Voith?
The ongoing coronavirus crisis shows that even in difficult times, Voith is a solid employer that responds flexibly to the needs of its employees while keeping an eye on long-term corporate goals. Moreover, with its diverse products, Voith offers equally diverse employment and development opportunities. In addition, I have been able to gain insights into various departments through my studies in order to find out which areas suit me. I believe that if you want something, you can achieve it at Voith.
What benefits does Voith have to offer that you have also benefited from and continue to benefit from?
Voith is very flexible in many areas, such as the working time model. Even before the coronavirus, there was already the possibility of working from home on a regular basis so that family and career could be better combined. Voith also provides good support for further training right from the start. About two years ago, I decided to do a master's degree, but I didn't want to quit my job to do it. My supervisor immediately signaled his support so that I could enroll in a dual master's program.
What is special about Voith? Why is Voith a good employer?
Voith manages the balancing act between a traditional family business and a globally established technology supplier. It is a great achievement to allow the values of very different cultures and mentalities to grow together. We all have to function together; we would not be successful as individuals. Voith also naturally benefits from this diversity when it comes to understanding and serving the needs of our customers. In general, Voith offers an attractive corporate culture. An autonomous way of working and flat hierarchies allow me to realize myself and not just carry out orders. I can contribute my own ideas and all facets of my personality and have the feeling that my work is valued.
Is there anything else you would like to mention?
I would encourage young women to learn a technical profession and tell them to stop underestimating themselves and "just do it!" Just because we women often don't have a background in technology doesn't mean we can't work in a technical field. If a technical profession interests you, try it – you are there to learn new things! Knowledge comes with time. Personally, the apprenticeship in particular has helped me a lot. I've gained a lot of practical experience and know how to use tools. That gives me self-confidence and I come across as more confident as a result.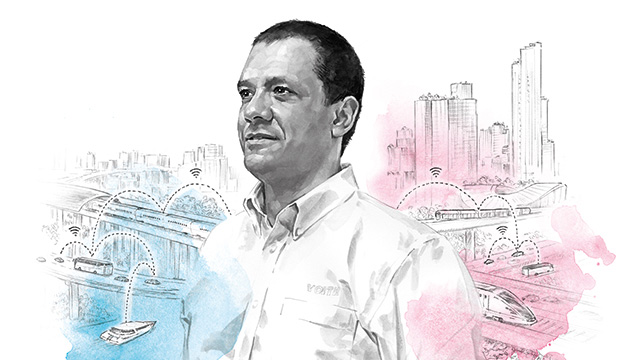 Competent, motivated, and involved
Did you know our most powerful drive at Voith is the talent of our people? Competent, motivated and involved – it's the people that drive our innovation and global competitiveness.
Meet our employees