Simple & reliable operation that is customized to your requirements
Offering great versatility, reliability, simplicity combined with customization, our hydrodynamic torque converters for industrial applications are designed to the exact characteristics of the driven machine within your application.
These compact and robust torque converters have a long lifespan, even when operating in harsh environments, with the capability to modulate torque and speed up to 100 MW .
Based on the fundamentals of hydrodynamic power transmission, these units are trusted and have been used in industrial applications since 1950.
GET IN TOUCH WITH OUR EXPERTS
How torque converters work
Torque converters are hydrodynamic transmissions, that were invented based on the "Foettinger Principle". They transmit the torque of the driving motor wear-free and steplessly, within a closed circuit.
This closed circuit consists of a pump, turbine and guide wheel with adjustable guide vanes, as an option. The mechanical energy of the motor is converted into kinetic fluid energy through the pump wheel. In the turbine wheel, this kinetic energy is converted back into mechanical energy and transmitted to the output shaft. The adjustable guide vanes regulate the mass flow thereby providing variable output speed.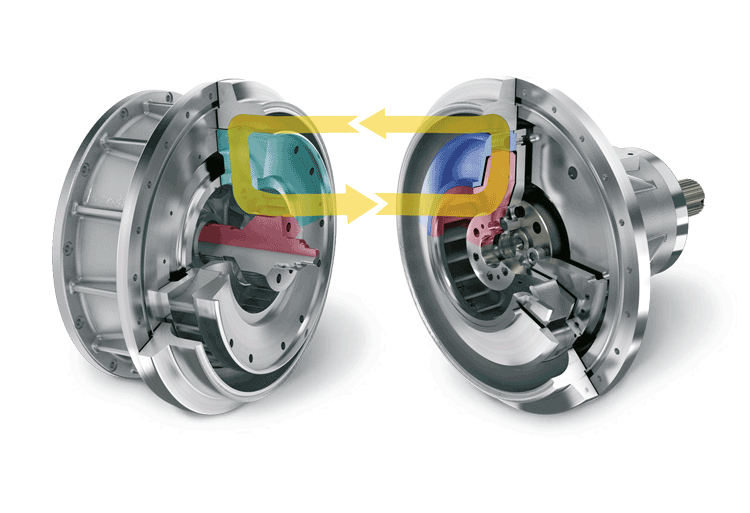 Type E…
Fixed guide vanes with different characteristics
Type EL…
Adjustable guide vanes for accurate speed control
Optional:
Filling and draining valves, gears and turning device
| | | | |
| --- | --- | --- | --- |
| Power | | Up to 100 MW | |
| Output torque | | Up to 110,000 Nm | |
| Input speeds | | Up to 3,600 rpm | |
Packaged starters
Your complete system solution
This all-inclusive solution assists in reducing site assembly, alignment, and commissioning time as the components of the packaged starting system are selected to complement each other, achieving an economical and space conscious design.
The torque converter, motor, and all required accessory equipment are factory mounted onto a common base. For more demanding requirements, such as the retrofitting of a unit to an older gas turbine, a self-contained packaged starter design can include an integral oil tank. Additionally, an optional onboard PLC system can be fitted to control the various phases of the starting sequence.
Furthermore, the driver (motor) can be used above its continuous rating during the short start-up of the gas turbine. The driver when designed as a true starting motor will be smaller, space saving, and a more economical.
Gas turbine starter
With an abundance of torque available, the torque converter can quickly accelerate the gas turbine to and above its self-sustaining speed. This is an important requirement when it comes to state-of-the-art, high temperature gas turbines that require high torque at low output speed.

Other functions include:

Turning the gas turbine by means of the integral turning gear for slow-roll functions
Indexing the gas turbine for inspections
Fast spin-cooling of the gas turbine for ease of maintenance
Extended gas turbine water-wash cycles
Subsea pumps
Compact and simple in design, this space saving torque converter is a reliable solution for challenging subsea applications. Integrated inside the pump, the converter regulates the speed of the pump. The complete unit is installed on the seabed and apart from an electrical supply system, it does not need any other supply lines. This converter paves the way for improved profitatbility against the background of decreasing flow rates at existing wells and increasing distances at expansion wells. The investment cost can be reduced by up to 70%, when factoring in heavy and space-intensive platform equipment costs.
Test field drives
This high power density, small footprint, compact torque converter, is used in power applications of up to 65 MW. Type EL... torque converters have adjustable guide vanes and are ideally suited to test field drive applications. Decoupling of the motor from the driven equipment allows for an unloaded motor start. The torque converter provides full torque instantaneously, even if output is blocked, and can be started easily without any big inrush current and grid impact. Most importantly, speed and torque are controlled accurately and smoothly. Designed for a long lifespan, of at least 30 years, these units have guaranteed spare part availability world-wide.
Additional applications:
Volumetric pumps
Extruders
Agitators
Chain conveyors
Winches
The revolutionary pump drive and subsea coupling system
Voith has partnered with Fuglesangs Subsea to develop an advanced pump drive and coupling system, leading to outstanding reliability and huge costs savings. By integrating a Voith torque converter into the pump on the sea floor, electrical variable frequency drives on the topside are no longer required for speed control.
Dr. Martin Tilscher
Product manager: Torque converters
t +49 7951 32 1755
Send an email
Voith Service – how can we help you?
Every day holds new challenges and we help you master them successfully. Anytime. Anywhere. Please click on the icon to find out more about our hydrodynamic torque converters services.

Your Service Helpline
Are you in need of emergency assistance? Call us and we will help you!

t +49 7951 32 1616
Voith services all brands
Furthermore, our trained technicians are skilled in the servicing of other manufacturer brands.
Find out more

Reliability through simplicity | Hydrodynamic torque converters

PDF

English