Dedicated curriculum for hydropower maintenance experts
Hydropower plants are complex systems with specialized technology. To achieve a high availability, it is necessary that maintenance tasks be performed duly by qualified staff. This curriculum focuses therefore on the specific training needs of hydropower maintenance experts. It conveys latest know-how of an original equipment manufacturer.

In three modules, trainees are trained on relevant component know-how, detailed maintenance tasks, concepts as well as trends. After the participation in the curriculum, trainees have a deep knowledge basis to implement state-of-the art hydropower maintenance methods in practice.
We help attendees understand the machinery they're working with. They go home and see the machine more clearly, with different eyes than before, which improves their ability to create efficiencies.
Flexible and individual learning paths due to modularization
Due to the modularization of the curriculum we are able to provide flexible and individual learning paths for different groups of trainees. Based on the qualification and field of application of the target group, the training can be implemented as electrical or mechanical maintenance path within modules 1 and 2. The curriculum is aimed not only at maintenance engineers, but also at the management staff in this area who needs to understand the functionality and details of a hydropower plant.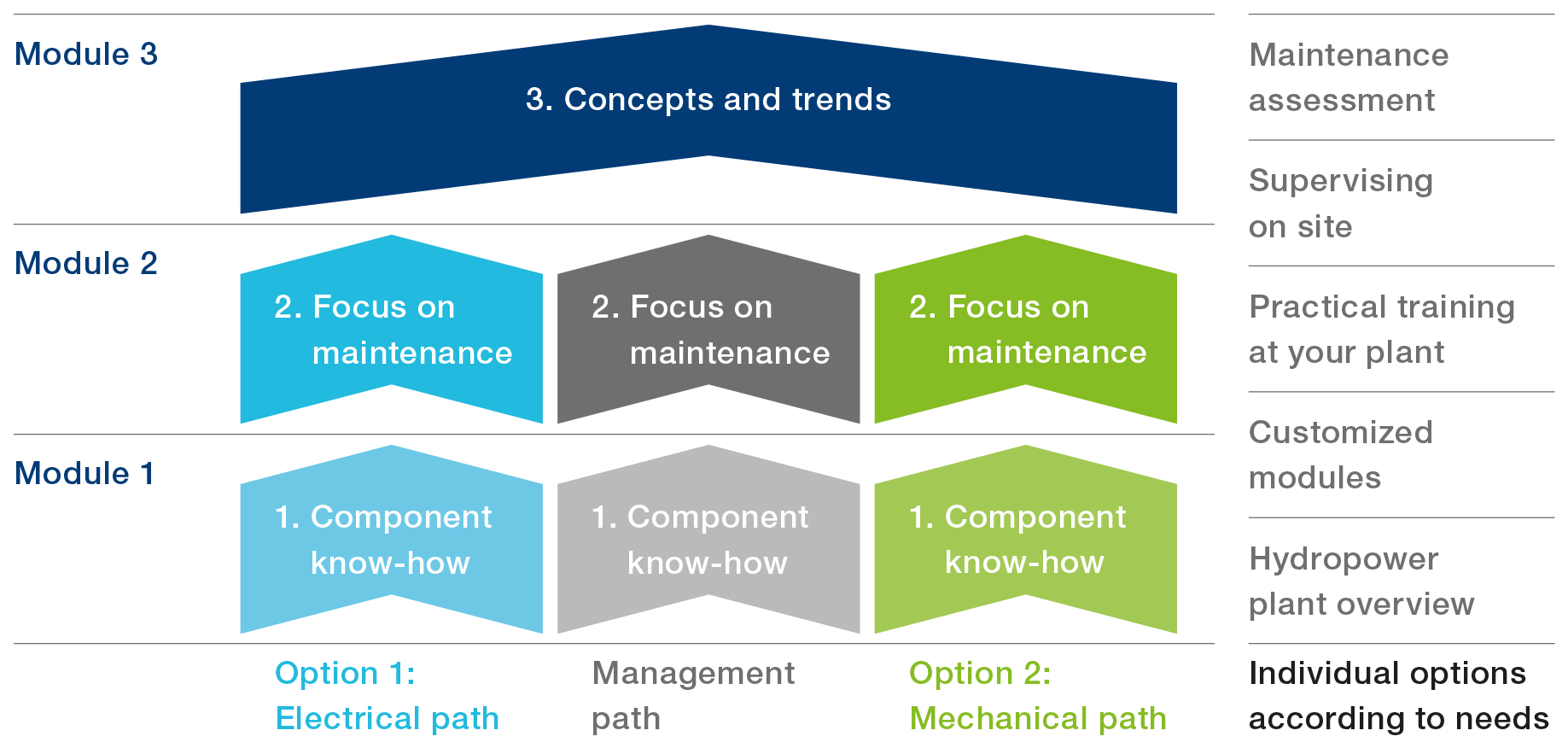 | | |
| --- | --- |
| Location: | Heidenheim an der Brenz, Germany |
| Duration of each module: | 5 days |
| Language: | English |
| Format: | Theoretical classroom training including case studies from recent practice |
| Special feature: | Visit of a hydropower plant, technical excursion or a special training to deepen the acquired knowledge |
| Individualization: | Individual options and modules can be realized at your hydropower plant or in other locations |
For all modules, certificates of attendance are issued. In addition, after completion of all three modules and passing a final exam, participants will receive a verified certificate from Voith Hydro.
Available modules and options
Each module can be booked as dedicated training for a group of 10 trainees. You can download detailed information about the Hydropower Maintenance Expert curriculum and the included modules here.
Module

Location

Duration

Participants

Outline

Training request

1. Component know-how
(electrical or mechanical path)
Heidenheim, Germany
5 days

Group of 10

PDF
2. Focus on maintenance
(electrical or mechanical path)
Heidenheim, Germany
5 days
Group of 10
PDF
3. Concepts and trends
Heidenheim, Germany
5 days
Group of 10
PDF
Get in touch with our experts
Mr. Markus Kaufmann
Head of HydroSchool
t +49 7321 37 6500
Send an email
Successful training references