Greener freight transport engineered
The digital automatic coupler connects and disconnects freight cars, air pipes, data- and powerlines automatically.
In this way it forms the basis for shifting freight traffic to the rails. And it contributes significantly to combating the ever-increasing carbon emissions and achieving the goals of the European Green Deal.
Reliable and on-time delivery are the keys to the success of attractive and competitive rail freight services, and Voith's digital automatic coupler, the CargoFlex, forms the basis for ensuring that these are both the case.
To achieve the European climate targets, the share of rail in freight transport needs to be increased to 30%.
Rail freight transport accelerated to the max with CargoFlex
Strong system partner found
Voith combines proven mechanical systems with digital intelligence to offer you a complete, compatible system. As a reliable partner, we also provide support during the entire service life, starting with the installation
Are you ready for the future? We'll take you there.
System partner for DAC migration: mechanical system, service, and digital add-ons from a single source
Reliable couplers proven in commercial operations
Partner for the entire fleet: freight car expertise and many years of experience as a locomotive system integrator
Pioneer in automation and digital features
To achieve a massive shift in freight traffic from the road to the rails, freight trains need to become more efficient and more competitive. More goods need to be transported faster and on time. Our digital automatic coupler, the CargoFlex, is the basis for ensuring just this. It is a key component in guaranteeing that freight trains can start their journey and reach their destination faster.
How long does it take for a train to get on its way? Many manual and time-consuming steps mean that freight trains sometimes only leave for their destination when a truck would have already reached it.
The CargoFlex automates and significantly speeds up operations:


Automatic coupling
Electrical, automatic uncoupling
Automatic brake testing
Automatic load monitoring
Furthermore, we are working on implementing additional functionalities to further optimize train preparation:

How long does it take for a freight car to reach its destination? Today, various restrictions prevent freight trains and goods from reaching their destination as quickly as possible.

In conjunction with the latest train protection systems (ETCS 3), the digital automatic coupler enables higher speeds thanks to faster line clear authorization. This requires information on train integrity to be communicated, among other data, which is achieved by means of permanent communication between the train's front and rear ends. The DAC makes the necessary data communication along the length of the train possible. This is also critical to precisely controlling the brakes and keeping braking distances short. These, in turn, play a key role in increasing speed and route frequency.

Today, Voith is already working on enabling data communications over the entire train and dependent functions to accelerate the speed of the system:
Constant train integrity control
Selective braking of each car
Digital revolution launched
The future of rail freight transport is digital, intelligent, and connected. This is the only way that available resources can be used in the best possible way and the freight carrier can survive in the competitive logistics market. Voith already offers a significant increase in efficiency in train preparation with automatic brake testing, automatic load monitoring and other digital solutions.
Contact our experts
OnControl.Cargo

Our robust solution seamlessly combines real-time monitoring and automation and is designed specifically for rail freight operators to make operations more efficient and safer.
Automated brake tests replace time-consuming manual tests. For a 500 m freight train, this results in a time saving of 30 minutes. The results of the automatic brake test are shown on the display of the train driver or the employee responsible for the brake test.
All relevant information about the load is provided in real time on the wagon and in the web portal. This opens up new avenues in terms of safety and optimum loading capacity.
Besides improved train preparation times, we are already able to solve another major rail cargo problem: We enable one man operation. Cancelled trains due to lacking personnel are history.
Scharfenberg® couplers have been used reliably in passenger rail services for more than 100 years. Voith's freight couplers for locomotives and freight cars are based on this proven technology and have already been used in commercial operations by SBB Cargo since 2019.
CargoFlex
The CargoFlex reliably connects and disconnects freight cars even under extreme weather conditions. The freight car coupler is optimized to always securely connect the mechanical system as well as the power, air, and data lines.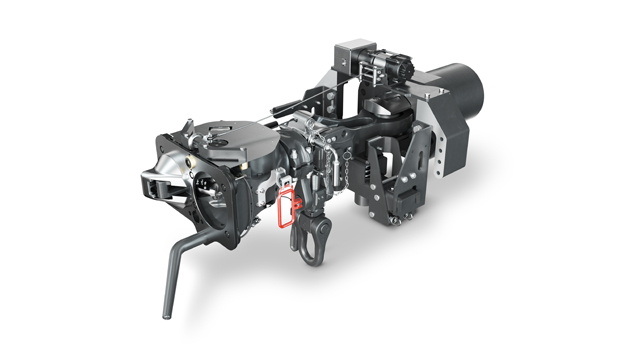 CargoFlex Hybrid
The CargoFlex Hybrid gives operators the ability to gradually convert to DAC. With it, coupling via a draw hook and via automatic coupling is possible, as the head can be placed in the automatic and manual position as required.
Scharfenberg® couplers have been proving their worth in passenger rail services for more than 100 years. By making advancements to this technology for freight trains, we are playing a major role in the modernization of European rail freight transport.
Scharfenberg® couplers have been proving their worth in passenger rail services for more than 100 years. By making advancements to this technology for freight trains, we are playing a major role in the modernization of European rail freight transport.
Migration and maintenance settled
The digital revolution in rail freight transport offers great potential but is also an enormous challenge. To help wagon keepers as well as operators master new requirements and realize maximum availability and smooth operation, Voith Service offers a wide range of services for the digital automatic coupler from migration to maintenance.
Fast maintenance in the field with CargoFlex
Swiss freight transport automated
SBB Cargo and Voith have been working together since 2017 to speed up processes at freight hubs and shunting yards in Switzerland. Following extensive testing, the company has been using the CargoFlex and the CargoFlex Hybrid in commercial operations since 2019. Since 2021, all of Switzerland's combined domestic transport has been coupling automatically.
Every day, more than 400 freight car couplers and 50 hybrid couplers from Voith reliably couple during commercial operations in Switzerland.
Cooperating closely for a strong rail system
Frequent questions answered
Are you ready to take that decisive step toward the rail freight transport of the future, but still have questions about how to implement it? You will find the answers to the most frequently asked questions here.
Do you have further questions? Not a problem! Our CargoFlex experts look forward to assisting you. Simply send us a message.
Contact us