Precise speed control – Fast amortization
Providing the speed your process requires and combining reliable mechanical design with hydrodynamic power transmission, a Vorecon variable speed planetary gear precisely controls the speed of compressors and pumps.
Precise speed control results in significant energy savings compared to throttle or bypass control systems. Furthermore, amortization is fast and usually within just a few years of service.
GET IN TOUCH WITH OUR EXPERTS
Customer success story
US-based gas pipeline operator Williams relies on a Vorecon variable speed planetary gear for speed control.
Are you interested in minimizing maintenance costs and increasing the availability of your critical drivetrain? The answer, OnCare.Health Vorecon!
Unlike other machine protection systems in the power, oil, and gas industries, OnCare.Health Vorecon is self-learning. The data diagnostic system continuously analyzes the machine's condition and predicts future behavior through accurate signal analysis and data diagnostics.
The self-learning diagnostic system that monitors your Vorecon's 'Heartbeat' in power, oil and gas applications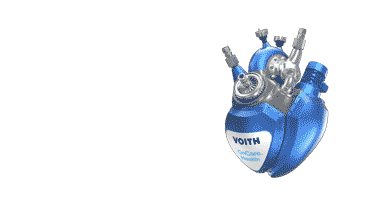 The Vorecon is located between the drive motor and the driven machine in the driveline
The most significant proportion of Vorecon's input power flows directly from the input shaft to the output shaft. At the same time, the hydrodynamic torque converter diverts a small proportion of the input power to the output shaft through the superimposing gear. The power splitting principle explained here results in the Vorecon achieving very high efficiency.
Type
RWE
RWC
RW
RWE-M
RWC-M

Offering
A compact economical design
Motor load-free start-up
A wide range of control
A modular and economical unit
An economically-priced modular version with motor load-free start-up
Features
A standard integrated oil system with lube oil supply for the motor and the driven machine
Optional: An integrated base frame solution
| | |
| --- | --- |
| Rated power | 1 - 50 MW |
| Input speed | 1,500 rpm or 1,800 rpm |
| Rated output speed | Up to 20,000 rpm |
| Speed range | 10% - 105% |
| Installation | Ex & non ex |
Voith Service – how can we help you?
Every day holds new challenges and we help you master them successfully. Anytime. Anywhere. Please click on the icon to find out more about our Vorecon services.

Your Service Helpline
Are you in need of emergency assistance? Call us and we will help you!

t +49 7951 32 1616
Voith services all brands
Furthermore, our trained technicians are skilled in the servicing of other manufacturer brands.
Find out more