Small Hydro is nearly endless, ecologically and commercially sustainable
Complete water-to-wire solutions designed and manufactured by Voith.
There is tremendous potential in small hydro sites – thousands of existing low-head hydro sites and underutilized resources waiting for retrofitting or upgrades. Energy recovery, as well as new run-of-river sites, provide outstanding potential. The M-Line product line represents comprehensive solutions for the sustainable generation of electricity from these resources. Standardized products for individual applications offer an attractive blend of high performance, quality and cost efficiency.
Benefits of Small Hydro
Economically viable
Available globally with benefits for remote communities
Low environmental footprint and risks
Easy to operate and to service
High-quality energy resource
Long lifetime of power stations
Sustainable renewable resource with lowest CO2 footprint
In many respects Small Hydro requires smart and innovative as well as holistic concepts to find the best solution for a specific site and save time and cost on all aspects of the project.
The M-Line comprises simplified, highly standardized turbine-generator units and its auxiliary systems. The system is pre-assembled which allows fast and easy erection at site. With integrated controls and actuators, it provides a compact and reliable water-to-wire system.
M-Line Kaplan
Design features
Vertical Kaplan unit
Double-regulated (guide vane and runner)
Directly coupled synchronous generator (gear box as option)
Highly efficient hydraulic design
Short erection time due to pre-assembled parts on mounting frame
Modular and compact concept
Technical Data
Head range: 2 to 10 m
Flow range: 2 to 20 m3/s
Output: Up to 1 000 kW
M-Line Francis
Design features
Horizontal Francis unit
Single regulation (guide vanes)
Directly coupled synchronous generator
High-quality runner technology
Optimized and standardized steel parts
Optimazation of auxiliary systems
Technical Data
Head range: 20 to 80 m
Flow range: 0.25 to 3,80 m3/s
Output: Up to 1 700 kW
M-Line Pelton
Design features
Vertical Pelton unit
From 3 to 6 nozzles
Jet deflector for load rejection
Directly coupled synchronous generator
Compact turbine-generator unit
Optimization of auxiliary systems
Modular construction
Technical Data
Head range: 80 to 340 m
Flow range: 0,4 to 1,6 m3/s
Output: Up to 4 750 kW
The StreamDiver provides an industry-wide unique design which allows a simplification of the entire power house design. The StreamDiver product family covers many applications. Lubrication and cooling water systems are not required, actuation systems for control and start-up are reduced to a minimum. A flexible and modular integration into the civil infrastructure is possible due to the modular line as all assemblies are modularized and standardized. Ease of installation and maintenance allow cost savings throughout the project phase.
Design features
Highly efficient propeller turbine (runner regulation as option)
Direct-driven permanent magnet synchronous generator
River-water lubricated bearing design with outstanding lifetime
Completely oil- and grease-free operation
Modular design for sites with high flow (parallel generation of multiple units)
Civil concepts with flexible integration into existing structures
Additional options such as variable speed and fail-safe stop mechanisms
Technical Data
Head range: Up to 12 m (possibility to a higher head range due to InPipe solutions)
Flow range: Up to 23 m3/s
Output: Up to 2 000 kW
The automation system yields as a standardized low- and medium-voltage platform for all M-Line products. The design concept minimizes complexity by focusing on mandatory systems only. Additional functionality and systems can be added as options to account for local grid codes or customer preferences.
Functions
Low voltage switchgear assembly
Unit and line protection and synchronization
Central plant control (common control functions)
Automatic voltage regulator (AVR)
AC/DC auxiliary supply
Alarm and remote monitoring system
Additional options for island operation, UPS, variable speed, additional excitation and stand-alone container solutions
The right solutions for every application
M-Line – Benefits making the difference
Economical
Making projects viable
Shortened project lead and construction time due to standardized and pre-assembled system
Focusing on total cost of ownership
Innovative, compact and modular designs
Simply reliable
Proven technology
Tested and manufactured according to global Voith standards
Downsized from state-of-the-art designs
Long-standing expertise with hundreds of references and a global network
Environmentally friendly
In harmony with nature
Oil-free designs
Small and compact solutions for remote areas
Fish-friendly power house designs
Sustainable renewable energy source
Have a look at our global experiences


The market for small hydropower stations is very dynamic. Fast and innovative solutions are needed, combined with high efficiency and reliability. With the M-Line, we are taking this change into account and setting new standards.
Floresti 1 - Unit 3 (Romania)
Horizontal Francis unit
Low-head Francis unit
Complete water-to-wire supply from Voith (mechanical and electrical scope)
| | |
| --- | --- |
| Commissioning | 2015 |
| Plant output | 761 kW |
| Head range | 30.7 m |
| Flow range | 3 m3/s |
| Units | 1 |
Nogueira (Brazil)
Low head StreamDiver unit
| | |
| --- | --- |
| Commissioning | 2018 |
| Plant output | 770 kW |
| Head range | 8,15 m |
| Units | 7 |
Babino Polje (Montenegro)
High head turbine-generator with auxillaries
3 and 6 nozzle vertical Pelton
Pelton turbine without jet deflector
| | |
| --- | --- |
| Commissioning | 2017 |
| Plant output | 1 640 kW and 618 kW |
| Head range | 186 m and 174 m |
| Flow range | 1 m3/s and 0.4 m3/s |
| Units | 2 |
Voith is your water-to-wire partner for the whole project duration – and beyond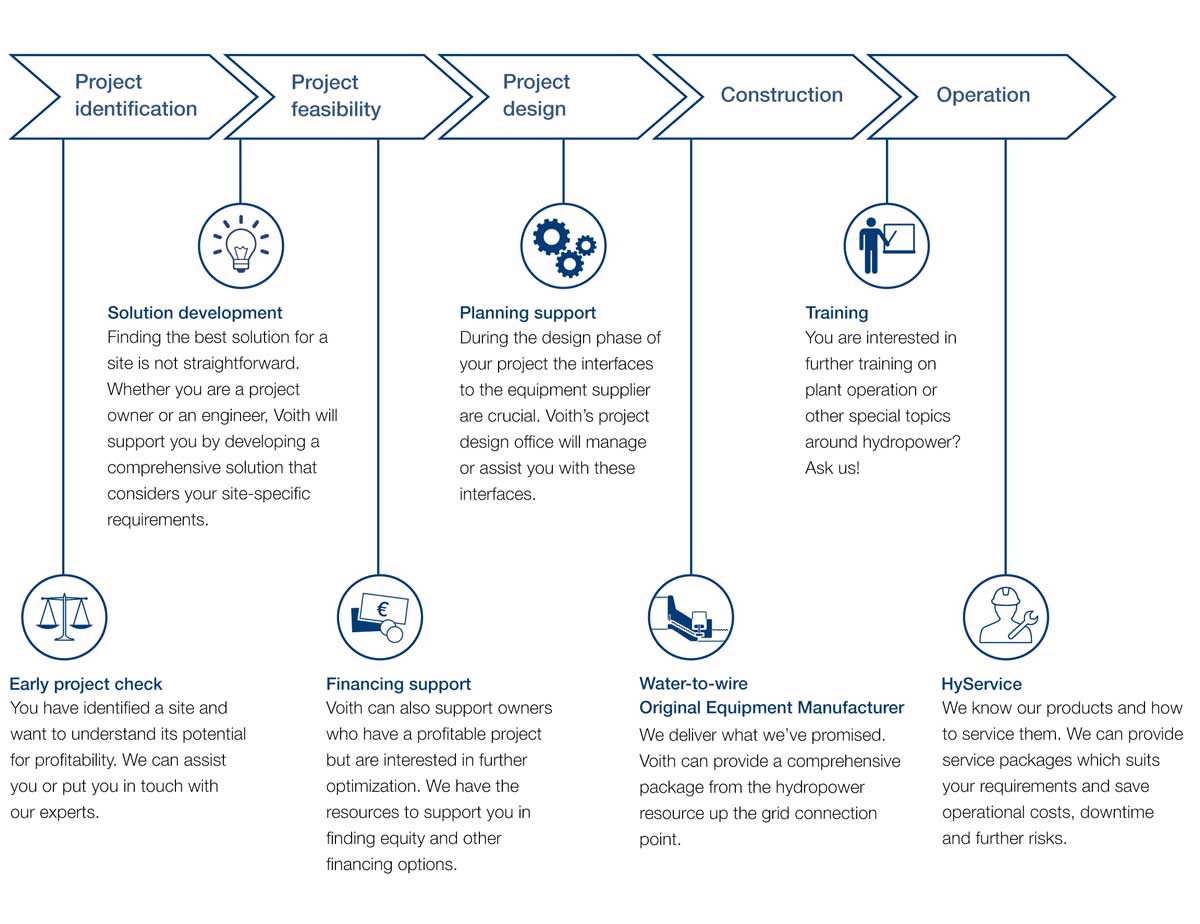 Your contact for M-Line solutions – how can we help you?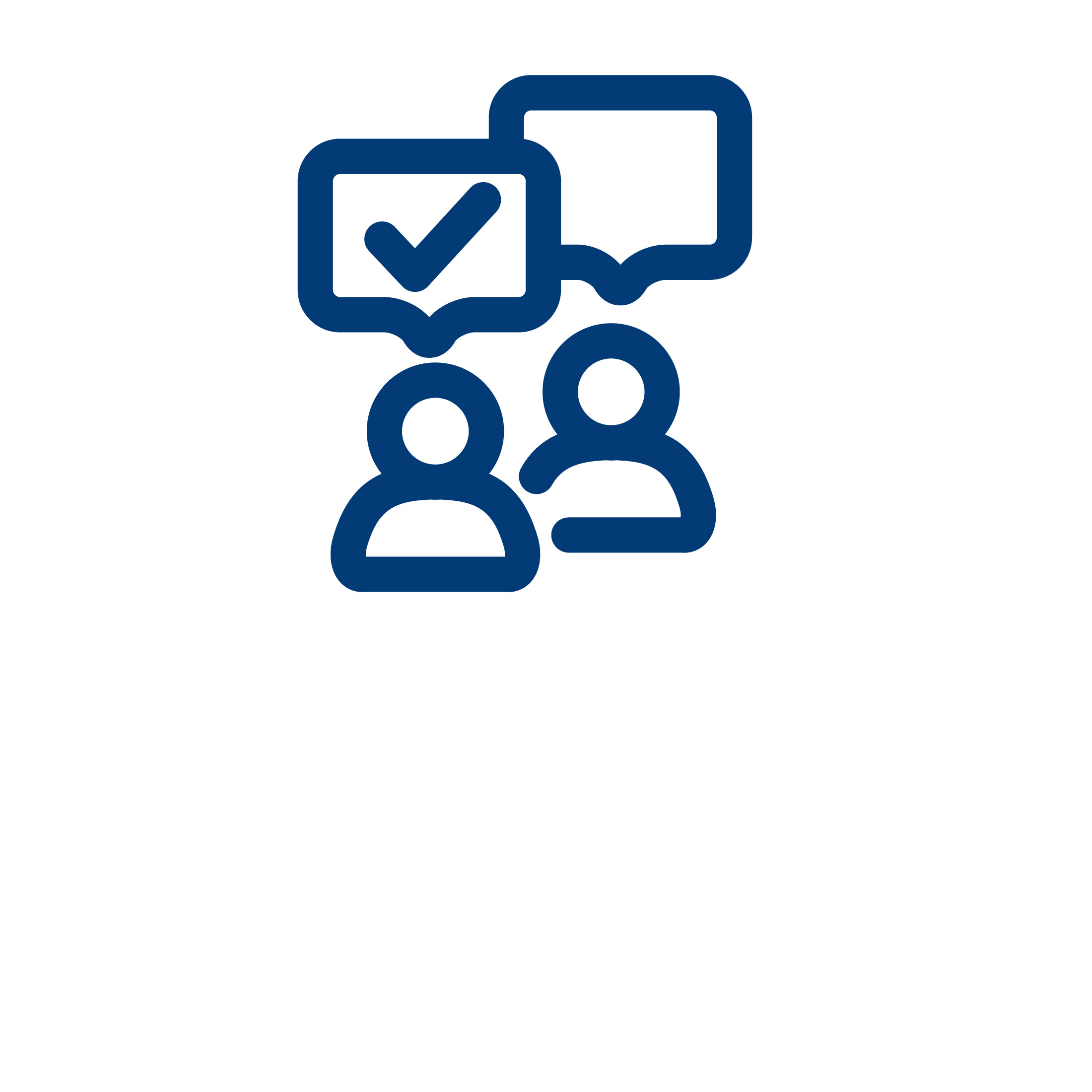 Our Experts will be happy to advise you!
t +43 2742 806-0
The Voith network of experts makes a difference
Small hydropower solutions from a single source
Small hydropower plants by Voith are sophisticated and reliable solutions for a sustainable energy supply. Our experts at Voith are here to accompany you from the selection of products to the start of operation all the way to the maintenance and modernization.
Learn more about Small Hydro