Our business are solutions for first-class papermaking. No matter what grades, what conditions and objectives you have - we are there for you. Worldwide.
Our dedicated Voith team provides you with individual support, whether you are interested in new lines or rebuilds, entire machine sections or special spare and wear parts as well as automation and digitalization applications. With our customized concepts, you will achieve your business goals faster, more efficiently and more sustainably. Get to know Voith and contact us!
*in FY 2020/21 at the Voith Paper Group Division
German Sustainability Award Design 2023
Winner of prestigious award
Voith Paper's XcelLine paper machines won the third German Sustainability Award (DNP) in the Design competition, Vision category. Already today, Voith's XcelLine paper machines are characterized by significantly reduced energy consumption, increased utilization of the paper fiber's potential, and significantly reduced water consumption. Voith Paper's visionary design study for the paper production of the future strives for CO2-neutral paper production that relies on alternative energy sources and does not require fossil fuels.
Find out more about this success
With our global locations, we are close to our customers.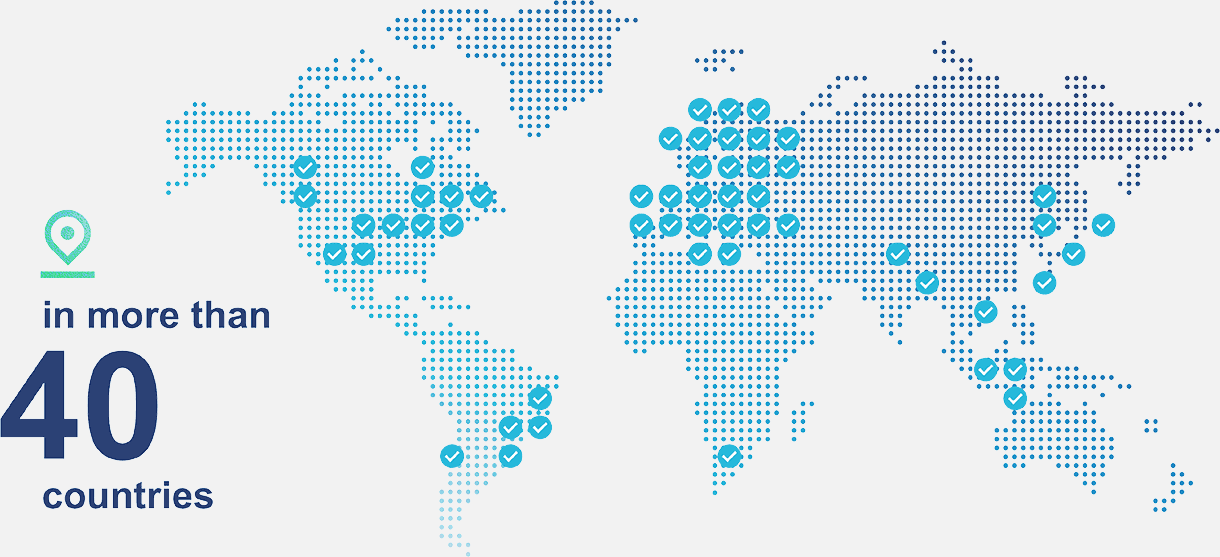 Full-Line-Supplier

As the leading full-line supplier, we are providing customer-centric solutions from a single source for an efficient and sustainable papermaking process. By offering holistic project packages that not only combine a unique product portfolio, services and digitalization but also comprise project management and consulting, we assume the comprehensive project responsibility for you and significantly reduce complexity and interfaces.

You can find out everything about our paper machine concepts on our

XcelLine

website. The

BlueLine

page contains all information about the stock preparation concepts. Visit our

AquaLine

website to discover our sustainable water management concepts for maximum water savings. You can find everything to do with ventilation systems on the

Air Systems

page and we have bundled the digital topics on the

Papermaking 4.0

website. Finally, you will find all of our services for papermaking on the

Servolution

page.

Contact us!
Sustainability

It is our responsibility as a full-line supplier to secure the lowest resource consumption. That is why we have launched our sustainability program "Papermaking for Life". We develop innovations that help you minimize the carbon footprint and reduce water and fiber consumption in the papermaking process.

On our specially created

Sustainability

page, you can find out which products and solutions we offer for sustainable papermaking. A key success factor for sustainable paper production is professional water management. Our sustainable

AquaLine concepts

significantly reduce fresh water consumption and effluent flow, find out more on our AquaLine website. The website

Research and Development

shows which innovations we are working on and which product tests can be carried out where.
Efficiency

In order to increase our customers' machine availability and production efficiency, we provide you with advanced services and state-of-the-art digital technologies. Our efficient processes ensure an easy customer journey and convincing user experience. With our leading automation and digitalization solutions from the Papermaking 4.0 portfolio, your paper production process is made more efficient, stable and predictable. And we support you in reducing your total cost of ownership with customized, results-oriented service packages – treading the path towards the most efficient paper production plant.

Find out everything about our IIoT Platform OnCumulus. On this page you will also find information about the OnEfficiency product family, which can support you in efficient paper production. You can find our service portfolio on the

Service page

as well as all digital topics regarding papermaking on the

Papermaking 4.0

website.

Contact us!
Our comprehensive offer for paper production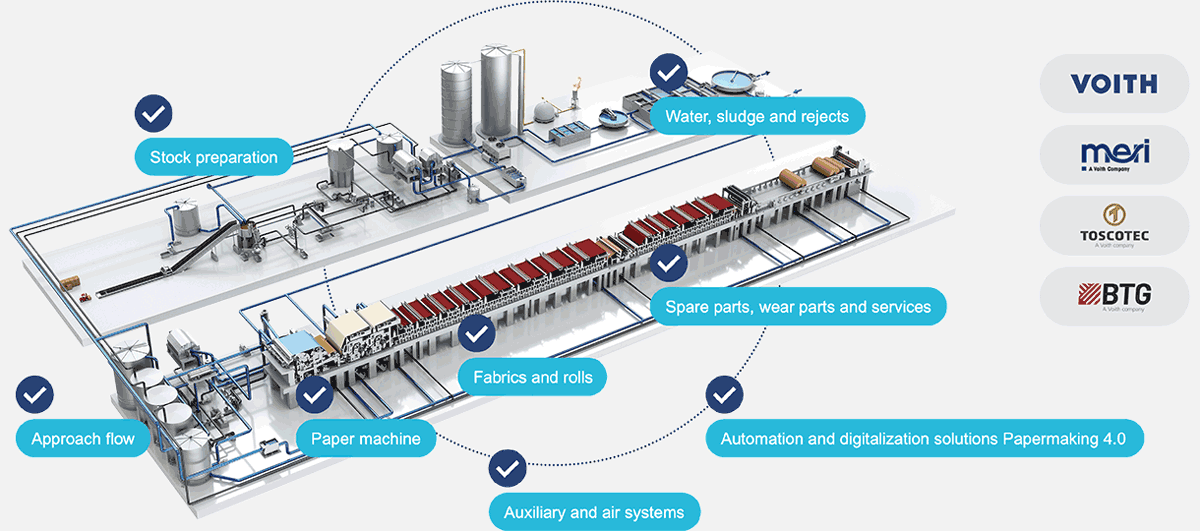 Product and service finder
Finding a specific product or service has never been easier! All you need to do is to enter a keyword or product name or simply use the filters to get more information about the needed product or service.
We are your expert for all paper grades
Voith Paper is your partner for optimized paper production. We serve all types of paper and have unbeatable industry knowledge thanks to strong partnerships such as BTG and Toscotec.
Discover the paper production line of the future
Papermaking Vision
In a visionary design study, Voith is designing the paper production line of the future. The vision takes account of all important aspects for a well-balanced overall concept with focus on improved efficiency and increased ease of maintenance.
Read more
Read our customer magazine
nextlevel N°09

Papermaking for Life
The key drivers and opportunities for sustainable papermaking.


Voith Paper's customer magazine

Contact us
Do you have a question or need advice? We are always happy to help! Please send an email or give us a phone call. Together we will find the right solution for you and your application.
t +49 7321 37-0
Send message
Voith Paper Newsletter
Subscribe to our newsletter and stay informed about news in the world of Voith Paper
Always get the latest updates on new products and services, projects, campaigns and success stories as well as upcoming exhibitions and conferences – straight to your inbox.
Subscribe now