Digitalization for your paper machine
Voith is your partner on the journey to digitalization and, as a leading supplier of Industry 4.0 applications, already offers you concrete solutions for increasing the efficiency of your paper production.
Our experts advise and support you with modular solutions to enable a smooth and risk-free transition to digitization. We create real-time data systems, take care of IT security and robust networks, and provide you with individualized Papermaking 4.0 systems. Through continuous development and improvement of intelligent hardware and software, we increase your process efficiency and thus productivity.
With our digital product portfolio, we support you in creating your production processes faster and more efficiently. Our digital technologies optimize your paper machines over their complete life cycle. We enable you to utilize your machine data for the continuous improvement of your business performance.
So far, our customers saved 37.986 TEUR with OnEfficiency.DIP and OnEfficiency.Strength.
Using OnCare.Asset reduces your administrative effort by up to 25 %.
More than 1 million parts are available worldwide via the Voith Paper Webshop.
Estimated savings potential with advanced process control in paper industry: 1,200 MEUR/year.
Shaping the digital transformation
Digitalization plays a key role in reconciling ecological and economic requirements. But how can the digital transformation process be shaped, and what are the resulting prospects for paper manufacturers and the industry?
Read more
The starter pack for digitalization
With OnCumulus, we ensure the smooth flow of information between your paper machine and the cloud, so you can call on your data anytime, anywhere – and from any device.
OnCumulus is also the basis for new, advanced process control applications that will be released soon. And some of them you will even be able to test for free!
Learn more
Advanced process control
Voith's advanced process control (APC) portfolio enables you to increase your profit by ensuring the production of the targeted paper quality at the lowest cost and with highest productivity.
Advanced process visualization
Advanced process visualization is the new way to visualize process data.
Cloud-based apps running on OnCumulus offer intuitive user interfaces that are optimized for the different users in a paper mill.
OnControl.FieldInstruments

Field instruments such as valves and sensors are an essential part of any plant and are decisive for the optimal functioning of the production plant. Our proven OnControl.FieldInstruments are tailored to applications in the paper industry. We offer a completely integrated and standardized field instruments package, which means you benefit from simplified order processing and reduced spare parts inventory. In addition to reliable and punctual deliveries, you can also count on high product quality and reduced interfaces.
OnQuality

We provide comprehensive automation solutions for the pulp and paper industry worldwide. The core of the automation systems is the OnQuality Quality Control System (QCS). This reliable system is an intelligent and integrated concept that enables manufacturers to control and optimize production processes and product quality. This increases productivity and at the same time reduces operating and maintenance costs.

LEARN MORE
Webshop

In the Voith Paper Webshop, you can quickly and easily purchase Voith products and services around the clock, worldwide. The possibilities of the online platform are not limited to purchasing alone. As a registered user, you can view all the information on your system – from the original delivery to the order history to the operating manual.
OnPerformance.Lab

Our Remote Service Center helps you to increase the efficiency and availability of your system. To this end, process and machine data are continuously analyzed using data mining methods and artificial intelligence supplemented by technology and automation expertise. In combination with the industry-specific paper know-how of Voith experts, potential for improvement is then identified and tapped.
OnCall.Video

OnCall.Video enables you a live audio-visual communication with a qualified Voith service specialist. The corresponding experts analyze your problems, derive suitable recommendations for action and support you in troubleshooting.
Virtual Reality

Whether planning your infrastructure or informing stakeholders, benefit from greater transparency, efficiency and safety throughout the entire life cycle of your paper machine. You can also train your employees with this technology. They will be perfectly prepared for operation and maintenance of the system even before startup, thus guaranteeing the highest availability.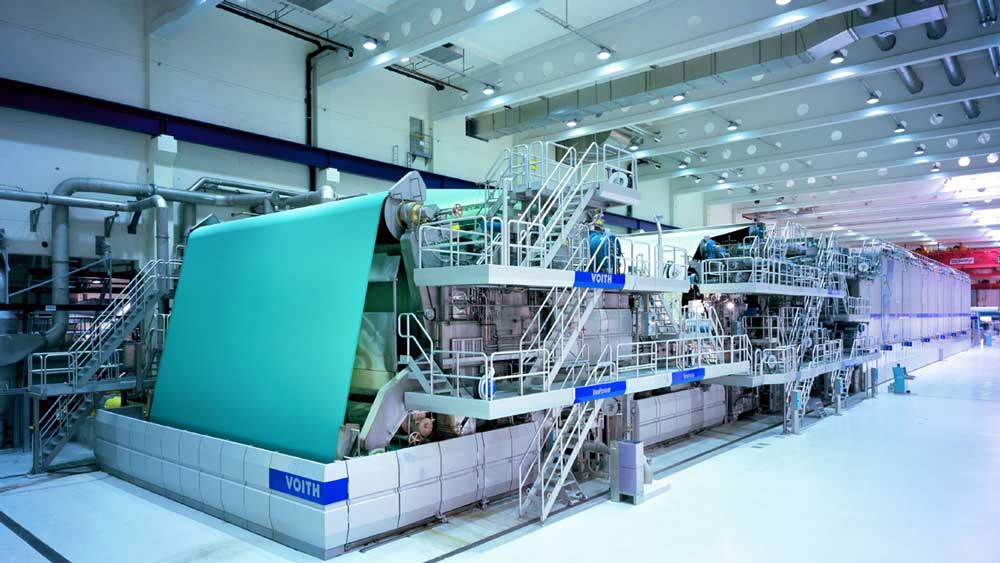 Laakirchen Papier and Voith launch joint flagship project to digitize paper machines
Paper manufacturer Laakirchen Papier AG demonstrated its future focus and adaptability by rebuilding its PM 10 from recovered magazine paper to corrugated medium in 2017. The company is now entering the age of digitalization with a large-scale project.
READ THE Press release
Explore other relevant products and services