Reliable, competent, close at hand: Voith offers a diverse range of services and products for business and industry worldwide. Complete solutions are available for all kinds of fields including paper machines, high value rotating equipment and drivelines, and hydropower equipment and services for industrial facilities. As a global company we are able to draw on our knowledge and expertise from every continent to provide suitable results which allow your business to meet its full potential.
Voith Hydro – Full-line Supply for Hydropower Plants
We offer comprehensive solutions including balance of plant electrical and mechanical auxiliaries and automation systems. Our systems are designed to provide stability in the seamless operation of hydropower plants and ensure high availability.

Voith Paper – Pioneer and Partner to the Paper Industry
Whether graphic, board, packaging, specialty or tissue papers, all conceivable paper grades are being produced on Voith paper machines. Using our unique process knowledge, we develop products that offer economic and environmental advantages. As pioneer and partner to the paper industry, we help our worldwide customers advance their business objectives. From a single source we offer new facilities, rebuilds, products and services to meet your goals.
Voith Paper Fabrics India Limited
Voith Turbo – Specialist for Intelligent Drive Solutions
Voith Turbo contributes to moving millions of people, goods and machines reliably, day after day. Our highly advanced technologies transmit and control powers under extreme conditions – safely and resource-sparingly. Customers from highly diverse industries such as oil and gas, power generation, mining, machine tools, ship technology, rail and commercial vehicles rely on advanced technologies from Voith.
Group Division
Voith Hydro
Voith Hydro Private Limited
SF-3/C, 2nd Floor, Rishabh IPEX MallI P EXTENSION 110092 Delhi
t +911204079242
f +911204079243
Group Division
Voith Turbo
Voith Turbo Private Limited
Plot No. 5, DLF Estate IINear NHPC Chowk, Village Sarai Khawaja, Tehsil 121003 Faridabad
t +91 129 4044900
f +91 129 4044900
Group Division
Voith Paper
Voith Paper Fabrics India Ltd.
113/114 A, Sector-24 121005 Faridabad (Haryana)
t +91 129 4292200
f +91 129 223 2072
Group Division
Voith Hydro
Voith Hydro Private Limited
107-Alindra, Manjusar, GIDC Estate, Savli, Vadodara 391 775 Gujarat
t +91 2667 671014
f +91 266 7661060
Group Division
Voith Turbo
Voith Turbo Private Limited
P.O. Industrial Estate, Nacharam 500 076 Hyderabad (A.P.)
t +91 40 27173561
f +91 40 27171141
Group Divisions
Voith Paper, Voith Turbo
Voith Paper Technology (India) Private Limited
ECOSPACE, Block-3A, 6th FloorIIF/11 New Town, Rajarhat 700 156 Kolkata
t +91 33 23005500
f +91 33 23005151
Voith Turbo Private Limited
AMP Baishaki, 7th Floor, Unit No. 701AG - 112, Sector - II, Salt Lake City 700 091 Kolkata
t +91 33 23587641
f +91 33 23592356
Group Division
Voith Hydro
Voith Hydro Private Limited
Padikkalakandy House, House No 36, Aswasi,Ward Number XI, Kavilumpara Post,Kozhikode, Kerala, 673513 Kozhikode
Group Division
Voith Turbo
Medha Traction Equipment Private Limited
Sy.No. 787, 788, 790 & 791, Jodimetla X Roads, Ghatkesar Mandal, Chowdaryguda Village 500 088 Telangana State
The Voith Group is a global technology company. With its broad portfolio of systems, products, services and digital applications, Voith sets standards in the markets of energy, paper, raw materials and transport & automotive. Founded in 1867, the company today has locations all over the world and is thus one of the larger family-owned companies in Europe.
Read more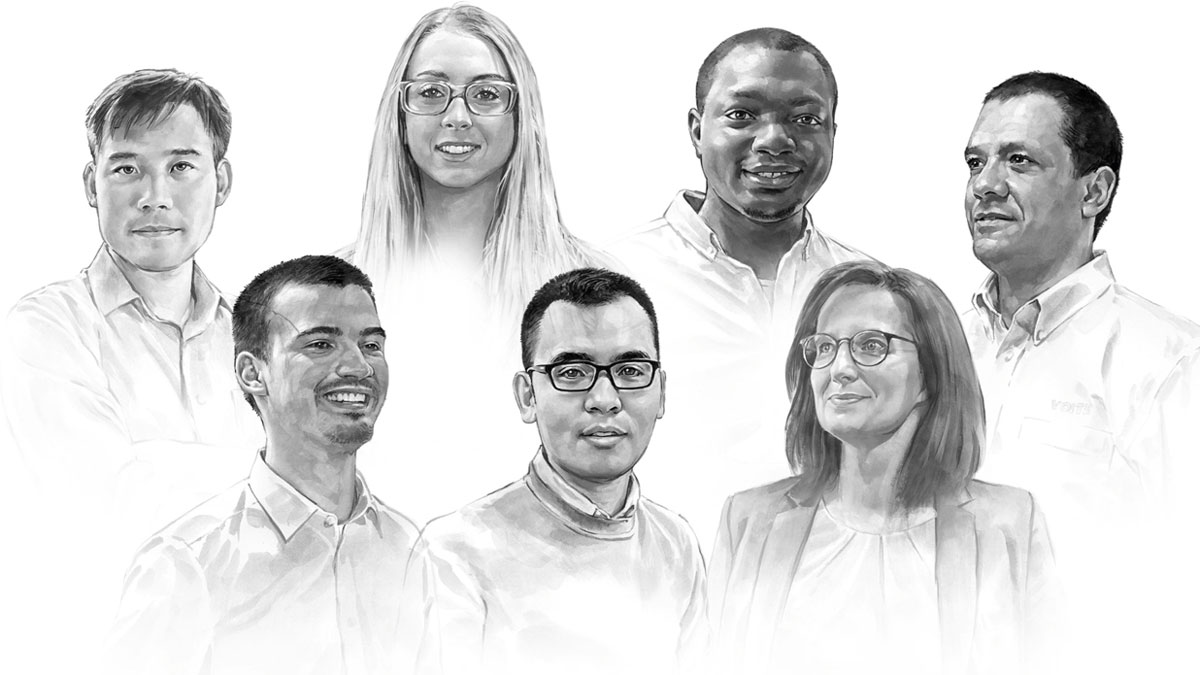 We offer careers in fields from business management to engineering, from manufacturing to IT. If you`re interested in technology, Voith is the place to be. You want to be challenged and developed? Your success is only limited by your imagination and motivation.
Current job openings
At the moment, there are no job openings available for your country.
Nouvelles de l'entreprise
Nous vous tenons informés des sujets d'actualités au sujet de l'entreprise.
Compliance help desk
Our whistleblower scheme
Our Compliance Management System aims to establish an active value system and reinforce the staff's individual responsibility, going much further than straightforward compliance with legislation and regulations. This includes acting jointly to prevent and combat conduct that financially harms or discredits our company, staff or partners.
visit our compliance page