Full-line supply for hydropower plants
With more than one hundred projects realized in Turkey, Voith Hydro is the leading company in the hydropower sector in Turkey.
As part of the global Network Voith Hydro Turkey in Ankara offers turnkey solutions for the full range of plant output, from small hydro up to the largest capacities, from very low to highest water heads. Based on our philosophy of long term partnership with our customers we equally focus on new plants as well as on rehabilitation and upgrade of existing ones. Our Turkish team is there to assist you during planning and optimization with our engineering input and experience, during the project execution, installation and commissioning and during the warranty period up to life time services.
Power is the foundation of modern life
Electric power keeps industrial societies going. It is only when electricity is continually available in the requisite quantity that goods can be produced and transported, and basic human needs met.
Voith Hydro Ankara (VHAN) is a subsidiary of Voith Hydro Austria with more than 100 years of experience in all kind of hydropower Equipment. With our experts in Ankara and at various Turkish project sites we support the projects from the sales through design and local manufacturing, installation, commissioning up until the end of the warranty period. At the same time we are your partner throughout the whole lifetime of your plant, including rehabilitation, modernization and upgrade.
Over 100 years in hydropower
The first turbine was produced by Voith in 1870. In the following years, the company took control in quick succession of first the German and then the inter-national hydropower market.
Modern hydropower plants can have an efficiency of more than 90 percent and are thus by far the most efficient way of generating electricity.
One-sixth of the world's electricity is produced by hydropower. Among the renewable energy sources, it represents around 80 percent.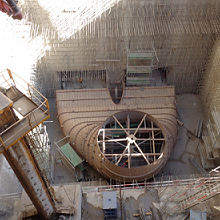 Your reliable partner for large hydro plants
We provide you with highest quality state of the art equipment "water to wire", from the inlet valve, turbine, generator, excitation, control and protection up until to the connection of the switchyard to the grid. Based on our experience of almost 150 years we keep on satisfying our customers with highest efficiencies and reliability of our equipment.
State-of-the-art technology for small hydro plants
With our specialists on the small hydro segment we can offer you the combination of the technology and efficiency of large hydro with the flexibility and specific understanding needed for small projects. We are your partner for service, rehabilitation, modernization and upgrading of your equipment to extend its life time and to keep it up to date to changing market requirements.
Voith Hydro Ltd. Sti.
06520 Sögütözü Armada Is Merkezi Eskisehir Yolu 6
A Blok, Kat 18, Daire 29
Ankara, Turkey
t +90 312 205 60 04
Send an email