The design and dimensioning of the fan regarding blade type, blade angle and number of blades, outer and hub diameter, installation position, etc. is at least as decisive for its noise levels as its integration into the overall system. Voith therefore offers you an individual fan concept that is precisely matched to your requirements.
Our high-performance fan aggregats are suitable for all off-road applications. Thanks to our deep and long-standing aerodynamic know-how, Voith fans require less drive power and are therefore more fuel efficient and up to 8 db(A) quieter than standard fans.
Advantages of Voith high performance fans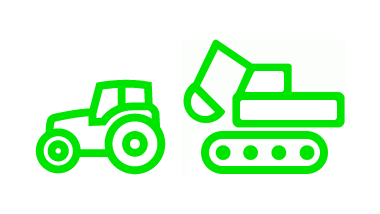 100 %
One hundred percent customized solutions for all off-road applications: compact design and high power density.

8 dB (A)
Up to 8 db (A) reduction in noise emission through optimal system design for the application.

75 %
Optimization of the overall efficiency of up to 75% with Voith fans: high fuel efficiency due to reduced drive power.
Do you have specific service inquiary or technical request you want to discuss with one of our experts. We´re there for you.