The Voith Foundation opens a window to the future
The Voith Brazil Foundation was founded in 2004. Since then, it has managed Voith's social investments in the country and coordinated the company's social responsibility and internal volunteering initiatives. These efforts are focused on promoting the sociocultural inclusion of the community that lives around the Voith factory in the Jaraguá district of São Paulo.

The mission of the Voith Brasil Foundation is in line with Voith's objective of developing sustainable technologies for future generations, supporting and implementing programs that offer professional education and bring children and adolescents closer to art, culture and the environment. Combined with local social assistance initiatives, these projects have directly or indirectly benefited thousands of people over the last 18 years.
The Voith Brasil Foundation makes a positive impact on future generations, which is part of our company's DNA. The initiatives we support have helped us build strong ties with all of our local communities. We are very pleased and proud to help them overcome challenges and promote socioeconomic development. And we are always looking forward for more.
The Foundation sponsors several social projects.
Among them are: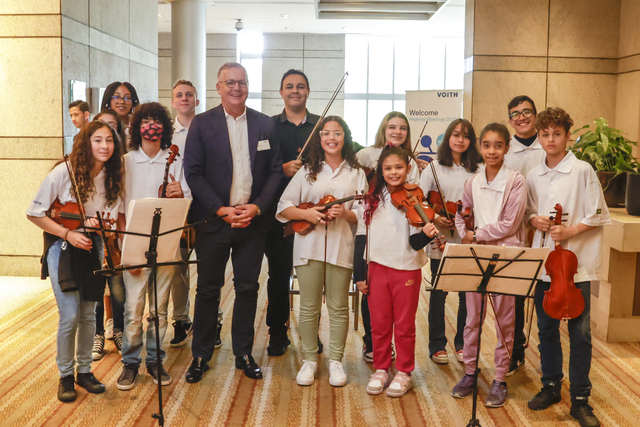 "A Música Venceu"
The "A Música Venceu" project, by the Bachiana Foundation, was conceived by maestro João Carlos Martins. Currently, the initiative has around 40 students studying at the Friedrich von Voith State School, located in the Jaraguá neighborhood, northwest of São Paulo, and has already yielded several results for the community. Totally free, the meetings take place in the E.E. Friedrich von Voith twice a week, an opportunity in which students have contact with violins and their first chords.
Check out the message that maestro João Carlos Martins left for Voith and its students approved in the EMESP competition.

Photo: Part of the students of the "Music Won" project with Voith's global CEO, Dr. Toralf Haag.
Watch on Youtube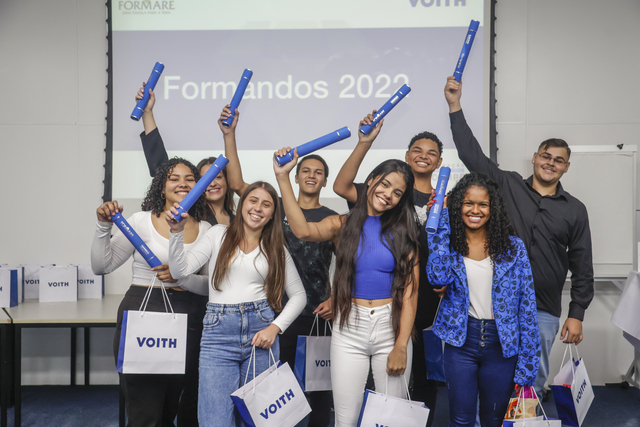 Formare Program
Formare Voith offers high school students from public schools in the Jaraguá region, west of São Paulo, the opportunity for professional initiation, with a certificate recognized by the Ministry of Education (MEC). Since 2006, Formare Voith has trained hundreds of young people for the job market and who now work for the Voith Group and other companies. Classes are taught by Volunteer Educators, which aims to encourage volunteer work by Group employees.

Photo: 15th Formare Class (2022). Classes held in a hybrid model.
Read more
Get in contact with the Voith Brazil Foundation!